Indiana Palladium, August 7, 1830

Fernbank Construction Scene
The locks were on the Kentucky side
Rebuilding Fernbank, 1930
This type of lock is known as a beartrap.
Fernbank was about half way between Elijah Creek and Loders Creek.
The Ice of 1917-18 at Fernbank
Fernbank Locks
We used this one to show the wood-less hills on the Taylorsport side. Wood was not only burned for fuel to heat houses, but, in earlier times, could also be sold to passing steam boat captains for fuel.

Fernbank Dam & Locks
Shelby Louden gives a presentation for the Saylor Park (Ohio) Historical Society on the history
of the original Ohio River locks and dams, centered mostly on Fernbank, lock and dam 37. It's a film of
a Powerpoint presentation with a voice over, but the info is solid, and there are some nice pictures.
Another Shelby Louden video on Fernbank.

"The Marshall of the State of Kentucky will sell at public sale on the 25th day of August, at Petersburg, Ky., the steamer David Gibson, her tackle, furniture &c, as it lies in the Ohio river." Indiana Reveille, August 17, 1859
"The steamer Madison, which was sunk on Monday at Aurora, by coming in collision with the steamer Iowa, was one of the Cincinnati and New Orleans Packet Line, recently established between the two cities, and was valued at $12,000, on which there was insurance of $8,000. Her cargo consisted of 405 hogsheads of sugar, 1,050 barrels of molasses, 95 tierces [1 tierce = 159 liters, or 1.33 barrels] of rice, and 5 tuns [1 tun = 8 barrels] of wire, valued at $65,000, principally insured on open policies in Cincinnati offices. Part of the molasses can probably be saved, but the remainder of the cargo, together with the boat, will prove a total loss."
from Vevay's Indiana Reveille, January 12, 1859
The Nathaniel Holmes was a 215 ton sternwheeler built in Steubenville, Ohio in 1856. The David Gibson was a 414 ton side-wheeler built in Murraysville, West Virginia, in 1854. The collided at Petersburg on March 28, 1859. 15 lives were lost.
Steamer Pat Rogers burns, across from Petersburg, more here, and here.
"The James Park, on her recent upward trip, passed the small steamer James Watt, loaded with pork, from Madison for Wheeling, sunk in the channel opposite Petersburg, Ky. She lies with the water up to her boiler deck, and from appearances was broken in two. The Watt was probably worth from $3,500 to $4,000, and formerly ran on the Muskingum River, and from Marietta to Wheeling. Capt. Harris is her commander." Louisville Daily Courier, March 5, 1855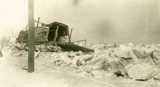 The Aurora-Petersburg Ferry in the Ice of 1910
from a Facebook post by the Dearborn County Historical Society

Elephants swimming in the Ohio? Read about it here.
And then there's this:
"A young alligator, fifteen inches long, and weighing two pounds,was caught in the Ohio, at
Petersburg, Boone county, a few days ago." Louisville Daily Courier, November 7, 1855

Steamer with the Kentucky hills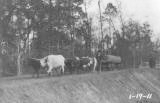 Hauling Water - if you didn't live near the Ohio River
January 19, 1911

For substantial portions of the Northern Kentucky Views Petersburg images,
we are indebted to the E. Y. Chapin Library in Petersburg, and to Ms. Bridget
Stiker, at the Hebron Branch of the Boone County Library.