Part 2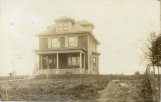 The Home of R. I. Ratcliff, in Walton, Kentucky
circa 1910
Pete Water's House
Others who lived
here are here.

John & Nell Campbell, Oz & Carrie
Rouse, Graham Roberts, or Baker, at
various times, due north of City Hall

Bill Lancaster Home
South Main, just
beyond the city limits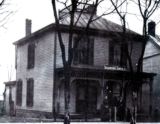 Still standing, and now a private residence, Mag Thomas' boarding house is on the east
side of main, across from what is now the library.
Log Cabin near Walton, built by Cincinnati Fire Chief Barney Houston.
from the November 25, 1934 Cincinnati Enquirer, a drawing by Caroline Williams

Believed to have been on North Main, across from Haley Lane
Thanks to Buddy Grubbs for info on this one.
left,

Coke Hall Home;


right,

Romes Home;
across the street from
the homes at the right
Dr. Ryle Home & Office, 1974
Home next to Christian Church,
once a Loomis Home, later the
Edwin Johnson home
Both of these were where the Christian Church Parking Lot is today

The first house in Walton is reported to have been built on the site of the Christian Church in 1790 by Hamilton Johnson.

Looking North, from the Baptist Church
the smaller house on the right is the Christian Church parsonage; the larger white home to the left was the
Vallandingham / McElroy home.
Rouse/Nuemeister/Brewster Home. That's A. M. Rouse, Asa Rouse's great-
grandfather in the foreground
77 South Main Street
Corner of Church and Main
That's John Stephenson's home on the corner.
The brick building was Doc Webster's Radio and TV Shop