Part 3
All of these are circa World War 1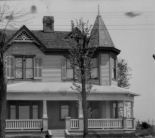 Ellis McElroy Home
5 doors north of the Christian Church
Looking South, leaving Walton
That's Travis Dunn's Gulf Station behind you.
from a Facebook post by John Denver Praither
South Main Street
A Ransler House, somewhere in Walton
from a Facebook post by Kerry Mattis Trouberman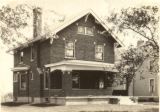 South Main Street
The Dr. Harry Mann / Guy Carlisle Home
Lots of the pictures of old Walton were given to us by Ed and Janet
Harden, (Thanks!) who got them from the old Brakefield Drug Store,
where it is assumed they passed from the pharmacist prior
to Mr. Brakefield, one Robert W. Jones. The three pictures above were in the
group, so we assume they're Walton, but who knows?? If you do, we'd love to hear from you.
Winifed Miller's response to our request above is here.
Ads from Robert W. Jones' Drug Store, and some pics of the front window display are here.

In the 1950's & 60's the Gaines home was John Gault's Antiques
And then there's Walton's most famous home, the Gaines House
The Boone County Recorder published this piece on the home on July 26, 1899, there's
an undated piece (we'd guess 1930's - 40's) of unknown authorship here (pdf), while last is Elizabeth
Coomer's very fine piece called Gaines Tavern (pdf).
A contemporary brochure from the Friends of Gaines Tavern is here. (pdf)