. . .and a few from Higginsport.

Of course, Boudes Ferry, or, as it's sometimes written, Boudesferry, isn't in Northern Kentucky, it's in Ohio, directly across the river from Augusta.

View from Boude's Ferry,
Opposite Augusta, Kentucky

Sunny Side,
Boudesferry, Ohio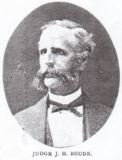 Sunny Side, Boudes Ferry
Postmarked Higginsport, 7/7/1913, to Stanley Lanham of
Higginsport, O., "We will hold the opening dance, Wednesday,
July 9th get together, join the crowd, and have a good time." Thomas Bros.
The dear old Cottage
Home in Boudesferry


Thanks to Dave Long for this one!

Glacial Rock,
Higginsport, Ohio

Mt. Repose,
Boudesferry,
Ohio, 1908

"The undersigned has opened a New Ferry across the Ohio river at Higginsport, and is now prepared to attend promptly to all calls from either side of the river. Having purchased the horse boat formerly used at Boude's Ferry, he is prepared to accommodate travelers and all others who may call upon him, with safety and dispatch. The road on the Kentucky side from Higginsport to Augusta is good, and a first rate bridge is opened over Bracken Creek. He will also attend to the Ferry across the mouth of White Oak Creek. Urius Martin, May 10, 1841" Georgetown, Ohio's Democratic Standard, May 11, 1841

Covered Bridge near
Augusta, 1906

Thomas Sumner Resort,
Opposite Augusta

Scene near Thomas'
Summer Resort,
opposite Augusta
| | |
| --- | --- |
| | |
| Higginsport Boot and Shoe | Higginsport Christian Church, c. 1910 |
In 1906, the Georgetown News-Democrat published a list of all of the shareholders in The Citizens' Bank of Higginsport.
Night riders from Augusta strike in Rural, Ohio.
Higginsport, c. 1910
Key to the numbered buildings here.

Higginsport, 1910
Second Street, looking West
Higginsport Wharf Boat
Higginsport Baseball, 1940's


from a Facebook post by Brown County, Ohio History
Village Park, Higginsport
Looking North at the mouth of
White Oak Creek, 1909 Flood


from a Facebook post by Brown County, Ohio History
Moscow
Neville
Chilo
Higginsport
All from the 1937 Flood, several days before the actual crest.
The Higginsport Bridge

"The white oak saw and planing mills of Higginsport have been purchased by C. W. and S. G. Boyd. Forty hands will be worked. A ship-yard is also proposed. They are building a Bell telephone to their Levanna mills, and intend to extend it to Augusta." Courier-Journal, December 18, 1880
Higginsport Lots for Sale, 1836
Higginsport's John R. Young, when the flood waters of 1883 "were coming in his front door on Front Street, remarked that he 'was there first and proposed to fight the d__n river out if it took all spring.' But poor John had to turn up his toes and skip in his john boat to fields new and pastures green." from the Bracken Bulletin, February 10, 1883