Early Bellevue Ferry
Little Jim,
the Bellevue Ferry
Foertmeyer's
401 Fairfield,
Bellevue
Peoples Mutual Building
Association,331 Fairfield
Avenue, Bellevue
Otto G. Wahle's Bowling Alleys, Bellevue, c. 1910
on the southeast corner of Taylor and Walnut
Bellevue & Dayton Ice Man
On Poplar in Bellevue
from a Facebook post by Barbara Sparks Rawe

Cement Block Factory, Bellevue
near present day site of 6th Street and I-471 Overpass
Thanks to K. Sutkamp for the above picture!



Bellevue to get a new Depot in 1892? Here.

Grote Manufacturing
In later years, this building
would be known as
The Avenue Restaurant.
The Central Cafe, John
Lehmann, Proprietor
A Kroger's on the right, 300-308 Walnut, c. 1920
"These properties were built by my great-grandfather, John Butcher in the late 1800's. They consisted of the corner property (with a store fronting on Walnut St., offices in the rear with entrance from Taylor Ave, and an apartment above); the adjacent property with the sign "Ed BRAUN'S BOWLING ALLEYS."; and the two houses at 306 and 308 Walnut Street. My grandfather Ed Braun (whom I affectionately called "Pop"), is the man third from left in the picture. He and/or my grandmother Irene lived at 308 Walnut until her death in 1974. My family lived with them during and after WWII. My great-aunt Anna Butcher lived in the house at 306 Walnut most of her life until 1970. My granddad's bowling alleys also had been a tavern until Prohibition. He sold (lost?) the property due to Prohibition and the Depression. It became the WE Tavern sometime after Prohibition was repealed."

from a Facebook item added by John Drach

Patchen and Fairfield Ave across from the Bellevue Vets Club.
Was a gas station, and later on a liquor store.


Thanks to Thomas Rouse and Don Sturgeon for the background.

Chinn's Auto Sales


from a Facebook post Gary Chinn
The Campbell County Bank, Bellevue
H. A. Rogers, President
The Campbell County Bank was acquired by the Fort Thomas Bank in
1959. Campbell County Bank celebrated its 50th anniversary in 1953.

Wm. A. Ulmer,
Plumber, 1902
The Toggery Shop, 1911
321 Fairfield Avenue, Bellevue
front and back
Matchbook from the Avenue Nite Club
181 Fairfield Avenue, Bellevue
F. W. Petri, Florist
238 Fairfield
Casket Car, Cunningham
& Dobbling, Bellevue,
c. 1920
Bellevue Fire Dept #1, in
the Balke Opera House,
c. 1900
Wm. Schaufle, Hardware
& Cutlery, 149 Fairfield Avenue
c. 1900.
Foertmeyer's
401 Fairfield
from a Facebook post by
Barbara Sparks Rawe
Ray Leurck's Gas Station,
147 Fairfield, c. 1949
Schulkers' Pharmacy, 1922
Fairfield avenue and Van Voast
building built circa 1915. Later,
Al Technow's pharmacy.
Petrie's Floral Co., 1922
238 Fairfield Avenue
Schmidt Shoe
Repair, 1922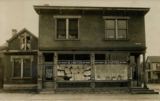 The Dry Goods & Notions store of Bernard and Anna Hater in Bellevue, Note a nice display of postcards on the door at left. A barber pole is next to the doorway at right. The Haters lived at 336 Taylor Avenue, and the street sign mounted on the right side of the building does say "Taylor," so we assume that they lived in the house at left or in the space above the store.
The Old Homestead, 1922, Fairfield and
Dayton. The Old Homestead was a private
hall used for entertainments, private parties
and society meetings.

The Old Homestead,
Fairfield and O'Fallon
"Sporting Events By Wire"
| | | |
| --- | --- | --- |
| | | |
| Barney Sproehle, proprietor | | 713 Fairfield, Barney's |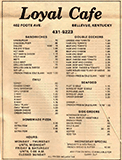 The Loyal Cafe Menu, c. 1970
Sylvia Theatre, 1922
Fairfield Avenue, Bellevue
Employee's at National
Colortype, Bellevue
manufacturers of Fire
Ball Reflector Buttons

Background on the sternwheeler Bellevue, here.