Campbell County was the 19th county formed in Kentucky. The law enacting Campbell County was passed on December 17, 1794 the county was formed on May 10, 1795 from parts of Harrison, Scott and Mason Counties. Its boundaries are unchanged since April 30, 1840. It has an area of 151.5 square miles, making it the 116th largest of Kentucky's 120 counties.
Temple Perrin moves his farm from Campbell to Grant County.
| | | |
| --- | --- | --- |
| | | |
| Greetings From Newport, c. 1910 | | 1932 Aerial View of Northern Campbell |

"The town of Cincinnati has 300 families; it grew rapidly due to its army post, but as its location offers no advantage for commerce, very likely when the army has abandoned this place, all business now conducted there will move on over to New-port which, on account of the Licking river facilities, offers all kinds of commercial opportunities." from Collot's Down the Ohio River, in 1796.

Campbell County sites placed on the National Places of Historical Places are named at this site.


From George W. Hawes' Kentucky State Gazetteer and Business Directory, for 1859 and 1860, (all pdf's)
An 1861 Gazetteer describes Newport, here.

A later Hawes Directory, from 1883-84, listed these Campbell County communities:
Who's who in Campbell County, 1840.
Shaffer's 1839-1840 Campbell County Directory (pdf)

For membership rolls of ALL Masonic Lodges in ALL cities in Kentucky,
from 1878 thru 1922, they're at the Hathi Trust Digital Library, by individual year.

Membership list of the Newport Knights Templar from 1910 is here.

We'd argue that before TV and radio, Newport residents were more likely to be more well read than we are today, more social than we are today, drunker than we are today, and more likely to attend church than we are today.

Ten Newport slaves escape in 1853, here.

(pdf)

"Mrs. General Taylor loses three slaves to the underground railroad, here. Gen. Taylor loses at least one, here.
Campbell County citizen offers $50 for the reward of his runaway slave, here.
Yet more Newport slaves escape, here.
The sad story of Polly West, here.
Ten slaves make it to Canada.
Chancellor Livingston learns that Newport is not exactly where a free man wants to be: story here.
Rybon Mayo may or may not have been a slave escaped from Campbell County. More here.
Slavery in 1835 Newport, here.
Slavery, in 1841 Newport, here.
Kentucky and Ohio Governor's differ and how to treat an escaped Newport slave, here.
When the Cincinnati judge rules you a free Negro, you get taken to a Newport judge. Story here.
Newport makes strong attempt to rid the city of free Negroes, here.

"On Tuesday morning, Dec. 28th, a runaway negro, the property of Mr. Stark, of Campbell county, Kentucky, was captured in attempting to cross the Ohio, below Ludlow." Sacramento Daily Union, January 26, 1859

An ugly slavery scene from Newport, in 1851, is here.

Slave kidnappers in Campbell County, here.

In 1853, a free born Black woman, Henrietta Wood, is lured into Kentucky and made a slave by the Sheriff, who sells her, literally, down the river. In 1878 she returns. And sues. And wins. Read it here.


Ice was a huge problem for rivermen before the current set of Ohio River Locks and Dam raised the pool level.
This is a Paul Briol photo, c. 1940, from a Facebook post by Barbara Blum


Report on Campbell County Kentucky from The Handbook of Kentucky from the Kentucky Dept. of Agriculture, 1908 is here.

The Kentucky Department of Agriculture's assessment of agriculture in Campbell County, in 1898-1899 can be found here. (pdf)

In 1919, there was a farm census, counting livestock, crops and farms. Campbell County's is here.

On August 4, 1852, the Cincinnati Daily Gazette published the State of Kentucky's Hog Assessment – the number of hogs over 6 months old per county. The number in Campbell County was 1,068.

"The 1860 federal census indicated that Kentucky had become the third largest grape producing state in the nation, with 170,948 gallons. Northern Kentucky counties combined produced more than two-thirds of the state output: Campbell County leading the state with 74,520 gallons"Andrea Dee, writing in Northern Kentucky Heritage, Spring-Summer 2012.


There are also Campbell Counties in these states:

| | |
| --- | --- |
| | |
| Little Bear, 10 years later | The Cree, at the Cincinnati Zoo |
Was the Cincinnati Zoo saved from financial ruin, in 1895, by Cree Indians, from Canada, who found
themselves abandoned by a wild west show in Bellevue and Fort Thomas? Yup.
We can't make up stuff this good. Read all about it here.

"A LARGE ELM TREE which began to show symptoms of decay, was chopped down recently on the farm of Mr. Cozzens, in the southern part of Campbell county, Ky., when the skeleton of a woman, with a little dried, shriveled flesh adhering to the bones, was found in a cleft of the tree about 20 feet from the ground." Sacramento Daily Union, August 3, 1855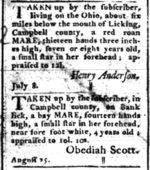 Campbell County Horses lost and found
from the Kentucky Gazette, 1795. Keep in mind Campbell was a lot bigger then . . .

A map of where there have been, at one time or another, many of the post offices in Campbell County.
A map by Robert Rennick
There have been over 45 differently named post offices in Campbell County. The full list is here.
This exceptionally detailed map of Newport from 1886 is a Sanborn Fire Map. They were originally created to assist insurance companies to assess risk for underwriting fire insurance, hence "fire maps." We've downloaded this single page from the Library of Congress' site for Sanborns. This map is one of twenty-six in the set from 1886. You can download them all in incredible detail. Check back from time to time at their site, to see if they digitize the Newport sets from 1910, and the 1886 set from Dayton.

Additional Links that apply to all of Northern Kentucky Views, and may or may not
be related to Campbell County, are on the main Links & Miscellany page, here.