At it's peak, over 1,350 people worked for the Wadsworth Watch Case Company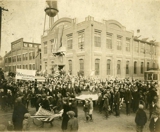 Wadsworth
from a Facebook post by Barbara Sparks Rawe, of a Tharp Dayton Heritage Museum image.


In its March, 1950 issue, In Kentucky Magazine ran a feature on
Wadsworth. All of the following images are from that issue:
The story they ran with these pictures is here.
If you can identify anyone in any of the above photos, please drop us an email.