a.k.a., The Purple People Bridge
The KCRR Bridge, before it was rebuilt in 1895.


These are from old stereoview cards, circa 1880. At the time these were made, it was the KCRR Bridge - the Kentucky Central Railroad. L&N - The Louisville and Nashville Railroad - bought the old Kentucky Central Railroad in 1888. The KCRR was the L&N line that ran from Newport, south, through Falmouth, Paris, and on to Danville.

Why does the early version of the bridge appear as if there are piers built on top of piers? Find out here.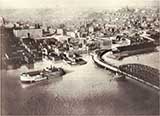 The Island Queen, marooned by the high waters of the 1937 flood between the L&N Bridge and the Central Bridge. That's the L&N Bridge on the Ohio side. from a Paul Lind post on Facebook
Newport end of the L&N Bridge, 1937 Flood
| | | |
| --- | --- | --- |
| | | |
| Cincinnati end of the L&N in 1937 | Newport end of the L&N Bridge, 1937 Flood | |
The Ohio end of the L&N Bridge, c. 1880's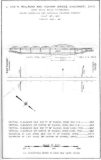 L & N Bridge Data
from the US Army, Chief of Engineers, 1934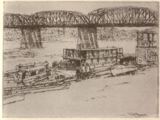 L & N Bridge from Newport
an etching by E. T. Hurley
from a 1919 book of sketches by Hurley, with texts by James Green.
You can read Green's text to this picture here.
These old stereoviews are c. 1880/1890