Vonderhaar and Stetter Funeral home
3rd and Overton, 1922
The Donaldson Lithographing Company, Newport, 1909
to "Mr. Henry Bramlage, Hamburg, Indiana
How's Henry? Am the same old scout. J. Meirose"
(Thanks to Richard Cole for the letterhead images)
There were also touring musical groups sponsored by Donaldson
Inside the Donaldson Lithographing Company
George P. Stegner actually had two groceries in Newport. One was at
the southwest corner of Monroe; the other at the southwest corner of Seventh and Monroe.
This is the one on Saratoga.
The W. J. Baker Co., 1948
Forrest and Saratoga
now in Wilder, and online here.
Palm Beach Clothing, Newport,
right is 1948
Dueber Watch Case Factory
southeast corner of Washington and Madison; ad is from 1885
(Madison was later renamed 5th)
Read much more about Dueber's at this site.
Beetz's Bakery, 1922
Known for Beetz's English Pound Cake
"The Beetz Bakery was started and operated by my grandfather Frank Beetz from about 1918 to 1948.
He was born in Germany in 1876, lived in London from 1888 to 1908, and then moved to Newport. He worked
at Roth Bakery at 9th and York before starting his bakery at 10th and Boone." - George White
Pompilio's
There's a history of the restaurant on their web site, here.
Roy Rogers Roast Beef, on Carothers, 1974
Victor Brown Florist, East Eighth Street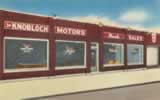 Knobloch's, A Nash Dealer
East Sixth Street
Otto Zimmerman & Son, 1922, 1948
120 E. Third Street
Hyde Park Clothes
left, 1948