and earlier . . .
"A great calamity has overtaken this city. After passing through a protracted siege of smallpox, we find at least one-third of our city submerged by the prevailing flood and about 3,000 families suffering and destitute. We need help. It is only necessary to announce this fact to the citizens of our common county to obtain relief. Please send relief to W. H. Lape, Treasurer of the Citizens' Relief Fund, Newport, Ky., or to the undersigned. William H. Harton, Mayor." Cincinnati Enquirer, February 21, 1883 More here.
All three of these are from Covington, toward Newport, in 1884. Think of them as one long, panoramic view. You can pick out Newport Barracks, and a glimpse of the older
Licking River Bridge (extreme right). Our guess is they're taken from atop of Booth Hospital.
"Newport, Kentucky, reports 3,387 houses inundated, the estimated damage being $1,000.000. Thirty-three buildings were washed away, and 127 turned bottom upward." uncredited news clipping regarding the 1884 flood in Newport
"The above is a view of the south-western portion of Newport adjacent to the Licking river, with the Black Ridge Hills in the background. It is Newport as the city appeared to the observer yesterday while standing on the eastern end of the Newport and Covington Suspension Bridge. The most prominent building represented in this cut is the Corpus Christi Church." Cincinnati Enquirer, February,1884
| | |
| --- | --- |
| | |
| | 1884 Newport Flood |
Flood of 1884, the Ohio
side of the Newport bridge
Flood of 1884, Bellevue
& Columbia Streets
Flood of 1884,
foot of Fifth Street
It's estimated that some 2100 homes were under water in Newport in the 1884 flood.
1884 was the second worst flood, after 1937, in Newport history.
Read more about it in the stories of February 8, February 12, February 14, and February 19.


Brief note on the floods in 1901.

"At 10 o'clock to-night all the cellars on Arabella street, Newport, from Southgate to Fourth street, were full of water and many residents were preparing to move out. The Licking River has inundated the Queen City Jockey Club property at Wilders station, the track being almost covered with water. Water in the pits at the Lick rolling mill has caused a shut-down and 250 hands will be idle." San Francisco Call, Volume 81, Number 86, 24 February 1897

Somewhere in Newport
in the 1907 Flood
Looking North
on the Licking
Notice the old Licking
River Bridge
4th and Brighton, 1907
2nd and York, Newport, 1907.
Note Wiedemann's
Beer Sign
Central Avenue, looking north from Chestnut.
That's the old Immaculate Conception School on the right.
from the Facebook page of Old Photos of Newport
From Columbia, looking West on Fourth, Newport, 1907
right, "Etta, This is the one I am on. See if you can find me. Phil"
1907 Newport
Flood Scene
1907 Newport
Flood Scene
"Jerry's Place", on the Licking
note the earlier Licking River
Bridge in the background
1907 Flood,
5th & Isabella
Concrete Houses on
Isabella Street, 1907
Taken March 17, 1907
West Fourth,
Flood of 1907
January 1907
A scene from the 11th
Street Bridge,
Isabella, north from 7th,
a.k.a Elm
1907 or 1913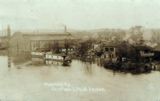 Newport in 1907, East from the L&N Bridge
Dean Gas and Engine Foundry on the left, Taylor Mansion in the background
East Front Street, from Central Bridge
on the back of the card, the author tells us his numbers mean:
1. The Old Taylor Mansion; 2. Capt. Horn[?] Home (he died a few months ago); 3. Barlow's Old Corner;
4. York St. leading to river; 5. Foot of York, Old Ferry Landing; 6. The Old Justis Place
Newport from the Central Bridge.
The back says the water is at 60.6 feet, but doesn't say if it's 1907 or 1913