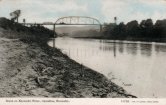 Scene on the Kentucky River, Carrollton
from the back of the postcard: "These towers or tanks you see on
either side of the river mark the location of two famous distilleries,
the "Old Darling" on the right, "Richland" on the left.
One now torn down and the other sold for a song."
For a brief time, The Kentucky River was going to be the boundary of the British
Territory of Vandalia. You can more about it at Wikipedia, here.


"Messrs. Barbaroux & Co., of Louisville have taken the contract for building the Little Kentucky bridge. It is to be of iron - a single span of 180 feet- to be completed by the 1st of November." Courier-Journal, August 1, 1870
"The Little Kentucky river bridge is completed and has been received by the Carroll County Court, and is now open to the public for travel. It is 180 feet span and is said to be the neatest and most substantial structure of the kind in that part of the State."

Courier-Journal

, February 13, 1871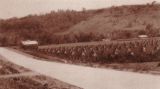 Little Kentucky River Valley. 1932