General William Orlando Butler, whose Wikipedia page is here.
Maj. Thomas L. Butler Home
center, c. 1910; right, c. 1930's
Butler home acquired by park in 1933.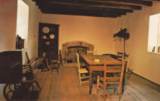 Inside the Turpin House
| | |
| --- | --- |
| | |
| A CCC-built view, c. 1933 | The Dam at the Lake, 1944 |
Two early artists conceptions of the Butler Park Lodge. The one on the left is 1955, and the right is 1961.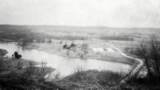 The Lake at Butler after being filled. At the time, called Lake Weiblie.
from a Facebook post by Amy Baglan
Butler Home, c. 1930's
Scenic Overlook Construction, c. 1930's, and use, c. 1960's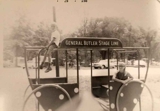 October, 1967
from a Facebook post by Jeff Kramer. That's him and his sister Ginny


Lake Drive Cabins
Thirty five sheep and two beeves were barbecued at the 1931 dedication of the park.
New enclosed shelter house
View from the Observation
Point, circa 1945
Man made lagoon
WPA dining hall
Construction at Butler Park

Camp Butler, where many of the National Youth Administration
( WPA ) workers who helped build the Park were housed.
That's the 11th St entrance to the park on the left.
Thanks to Bill Davis for the image on the left.
August, 1931
This is the group who went to Frankfort for the deed ceremony
to convey the land to the state to create a park.