The Swan, a.k.a. The Nine Mile House
815 Dixie Highway, Elsmere, Kentucky
Routes 25 and 42
20 Minutes from Cincinnati
SAM A. GAREY, Manager
Famous for Kentucky Mint Juleps
Open the Year Around, Serving
Southern Fried Chicken, Steaks, Lobster,
Country Ham and Sea Food Dinners
Northern Kentucky's Finest Dining Room
The proprietors of the Swan are reputed to have abandoned the place very, very suddenly in
1955, essentially walking out the door with the clothes on their backs, and with dinner, not eaten,
on the table. A Ft. Mitchell florist, Schreiver, moved into the location but kept the Swan name. The
restaurant tables are still there, used for floral displays. Ask to see where the slot machines were bolted down.
Dusing Brothers
from upper left, an aerial view,
Franklin (l) and Ben (r) Dusing
(1938), The Business, Workers
at Dusing Ice, Electrical Panel
(?!?) at Dusing Ice
The Dusing Brothers call it quits. Retrospective and history at this site.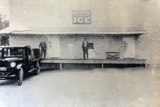 Brothers Ben and Franklin Dusing, c. 1930
from a Facebook post by Old Photos of Northern Kentucky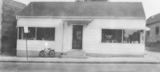 Chester Dryer's Gateway Grill
3619 Dixie, next to Dusings
Zitt's Taylor Shop, on Garvey
Little Boy Blue Golf
At Dixie and May in Elsmere
Tate Builders Supply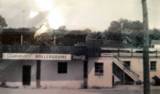 Jimmie's Roller Rink opened on January 31, 1948.
from a Facebook post by Joe Mullins

First Federal Savings and
Loan, Elsmere, 1959
Inside Tom Howard's
Grocery on Garvey