Covington Firefighters, 1877
That's "Blink" Bowers (seated), John
Collum (left) and James Sanford.
Washington Street, 1900
Sixth Street, west of Madison, Fire House, and Mother of God School
| | | | | |
| --- | --- | --- | --- | --- |
| | | | | |
| Dressed Up | unknown year | 1910 | c. 1915 | 1914 |
Fire Department #1, Covington


Fire Company #2,


On Greenup, between 4th and 5th, Covington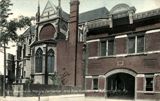 Fire Company #3
On 12th between Madison and Scott. Note St. Mary's.
Fire Company #4,
Emma & Main
Two pics on the bottom are 1920

Fire Alarm Box locations, 1910
(A pre-telephone method if reporting fires. More at Wikipedia)

Fire Company No. #5,
Holman Street, Covington,
1909. That high tower in the
rear? It was used to dry the hoses.
Fire Company No. #7,
Some background.
Fire Company No. #8,
Latonia southwest corner
of Southern & Tibbatts
| | |
| --- | --- |
| | |
| Ladder Wagon, 1910 | Heading Down Madison |
Covington Fire
Department, 1941
Covington, Ky Engine
No. #1, 1959 from the Peter
Pirsch Fire Truck Co of Kenosha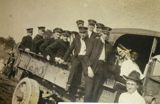 Covington Firemen, 1920
Covington firefighters burn
an abandoned house at 656
Elm Street for practice.
Madison Avenue, Unknown Year
Unknown Year
The Ohio Scroll and
Lumber Co burns,
December 17, 1962. 
(It had been abandoned
earlier, and was slated for
destruction, to make
room for the IRS Center)
Covington Patrolmen and their Harley's, 1952
Covington placed five new police cruisers like this one into service on
March 13, 1942, "fitted with radio equipment, and special lights and sirens."

Inquiring minds want to know: Why are there many, many more pictures of fire departments
and fire engines, but relatively very few pictures of police departments and police cars??