The Old Stone House belonging to Thomas Kennedy said to have been erected in 1791 on Second Street between Garrard and the Licking River, facing the Ohio River to the north.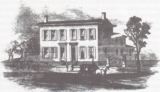 Home of Jesse Root and Hanna Simpson Grant, parents of Ulysses S. Grant
Built in 1850; the Grants bought it in 1859. 518 Greenup Street, Covington.
Jeffrey Marks is the award winning author of the US Grant Mystery Series, and
has written an article on
The Grants in Kentucky
. Read it
here
.
The Amos Shinkle Mansion, 165 East Street, Covington
Who was Amos Shinkle? Find out here.
After Shinkle's death, the building was donated to the Salvation Army in 1914.
They tore it down and erected the first Booth Hospital on the site in 1920.
"Col. Amos Shinkle has contracted for the building of a residence for himself, on Second street, between Garrard and Kennedy, in Covington, Ky., which is expected to cost between $100,000 and $200,000. The cellar alone will cost $12,000. The work has already commenced." from the Daily Courier, June 6, 1868

The Oldest House in Covington, Ky. built c. 1798

This house stood on West 9th, between Banklick and Russell. It wasn't the first house
in Covington, but the oldest one still standing when this card was published.
"If the wishes of Miss Fannie Manser, one of the leaders in civic and humane work are carried out by the City Commissioners, the old log cabin, which it is claimed, was utilized as a tollgate at Madison Avenue and Pike Street when Covington was but a mere hamlet, will be placed in Devou Park. It is now located at Ninth and Russell Streets and is the property of Billy Boro." from Cincinnati Enquirer, July 28, 1914, thanks to Mary Seifert Kaiser for sending it to me.

Row Houses, standing
today, at 15th and Madison
The Graziani House
The Rodgers Mansion, a.k.a.
the Porter-Fallis-Lovell
Home, E. Second Street
Second and Garrard, 1967


a sketch by Caroline Williams

The Motch Home for sale
1553 Madison,"in the residential district"
419 Garrard Street, 1927
Home of Dr. J. D. Collins, c, 1900
1038 Madison
from the Facebook page of
Covington Kentucky Vintage Postcards
The Home the Rev. Adolf
Rupprecht, c. 1914
338 E. 17th
Note St. Ben's on the left
Boyd/Hiles Home at
6th and Philadelphia
Currently the home
of Lawrence, P.S.C.


from the Old Seminary Square Facebook Page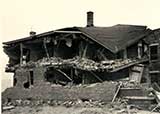 This Covington was home pretty much destroyed in the 1937 Flood
Finnish Architect Matti Suuronen built a hundred or so of these 13 foot high, 26 feet in diamater flying saucers he called Futura Houses. One beamed into Botany Hills 1976. The official (?) Futura Home web site is here. photo by Justin Dahan, September 26, 2015
"This house was taken off of its foundation from Lewis & Baker Streets to Covington Ball Park during a tornado." July 15, 1915
This one's still standing at 2736 Madison on Old Decoursey, c. 1870. The house was owned by Fairchilds at that time.

Thanks to Dora Tello for the picture.
The First Covington's Women's
Club, 33 East 12th Street.
A little history is here.
Railroad YMCA Building
standing today on Madison,
south of 16th. Read about the
Grand Opening, here.
Preview of the I.R.S. Site

"From the first of April to the first of October of the present year, there were sales of real estate in Covington to the amount of one million dollars - scarcely a fourth on speculation, but chiefly for building purposes. Covington is going up. Let her ascend!" from the Louisville Courier, October 8, 1853

Old Ladies Home, Covington
At 7th & Garrard; the newer building is from 1904; as opposed to the older building in the "two-fer" card
. . .a personal note, here.

A little history on the Ladies Home is at this site.
| | |
| --- | --- |
| | |
| The home of a Covington Riverboat Captain | Fred Fischer Residence |
618 Main Street
Fifth Street, c. 1977
Carneal House, c. 1938, 1981
It's also known as the Gano-Southgate House. This house was built in 1815 on land purchased from Thomas Kennedy. It was the first brick house built Covington. The story that Lafayette stopped here is likely not true, but Andrew Jackson, Henry Clay and Daniel Webster did. There's a tunnel that leads to the river, but it likely was not used as a path of the Underground Railroad.

Riverside and Garrard
a sketch by Caroline Williams
Shinkle Row Houses, 1967, 1981

We have lots more residential scenes on this page: October 14, 1973

It says here that the the first house in Covington was built by Ellison Williams, a Dan'l Boone pallbearer.




Frank Duveneck's birthplace;
12th and Greenup in Covington.
Frank Duveneck (1849-1919) may be Covington's most famous son.
A world renowned artist, you can find more about his work at this site.
You can get a short biography of Duveneck here.
You can see collections of his paintings at both the Mary Ann Mongan Library
in Covington, at Fifth and Scott, or at the Cincinnati Art Museum, in Mount Adams.
Looking West on
Kentucky Avenue
from Craig St., 1930
Boyhood home of
Daniel Carter Beard
1603 Greenup,
c. 1940
Southwest corner of Greenup
and Third, March 22, 1981
Kenny's Parking at 224
Greenup, March 22, 1981


Porch

Living Room

Entrance

Dining Room


Master Bedroom


Kitchen


These are from a 1954 pictorial feature on a home in Kenton Hills belonging to Mr. and Mrs. Carl Wooton. Note the view of downtown Cincinnati in the porch scene in the upper left.