The Original Lookout House
A little background on the Lookout House is here.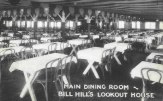 Bill Hill's Lookout House
View of the Main Dining Room of Bill Hill's Historic Lookout House  on the Dixie Highway, Covington, KY.
  Spacious, cool, restful,  subdued in atmosphere and permeated with the hospitality for  which Kentucky is famous.
The home of those good Chicken, Steak and Frog Leg Dinners - prepared and served just as you would expect
them to be in "Old Kentucky."
Cuisine Unsurpassed * Music Par Excellence
Lookout House, Showplace
of the Nation
"Earl Arnold, with his popular
dance orchestra is playing to
increased crowds each week
at Bill Hill's Lookout House,
Dixie Highway, Covington,
Kentucky"
Jimmy Brink's Lookout House
Jimmy Brink leaving the Kefauver Commission hearings, left.
That's the Senate Sgt-at-Arms, Joseph Duke, on the right.
The 1951 Kefauver Commission's Report had a
profit statement from the Lookout House. It's here.
Jimmy Brink's Lookout House had a tunnel
that ran from the club, under Dixie Highway.
Brinks died in an airplane crash near Atlanta in 1952. His obituary. Was he targeted by the mob for skimming, or was that just a nasty rumor?
Lookout House,
New Years Eve 1934-35


( "Courtesy of James Brinks" )

The Lookout House
donated for charity,
1934
An aerial view of the Lookout House, 1952
note St. Agnes in the upper right
The Lookout House
( Schillings )

The Lookout House (front and
back) ( Schillings )
The Lookout House burns down,
August 14, 1973. The Shillings had
sold the property prior to the fire.
Lookout House Fire


from a Facebook post by Jeff Barkley
Video of the fire from WCPO
Lookout House Luncheon Menu


"There was a fine attendance at the Lookout House last evening. 
The German band gave selections from Italian opera"
from The Cincinnati Commercial, August 8, 1877