i.e. Not the C & O; Not the Suspension;

Thomas Kennedy's Ferry, 1802
Civil War troops crossing on
the ferry Covington, c. 1862.
note the Suspension Bridge
Pier in the background
Federal volunteers crossing the Ohio River from Cincinnati to Covington
on a pontoon bridge of coal barges on September 5th, 1862. That's a partially
completed pier of the Suspension Bridge in the background.
Wesley Cameron is the man that actually designed and built the pontoon bridge. In 48 hours.
Brent Spence Bridge
under construction, 1963
Brent Spence Bridge
under construction
Brent Spence Bridge
under construction
photo by Jack Klumpe,
October 4, 1963
The Brent Spence
Bridge, 1964
This is Brent Spence, standing
on the Brent Spence Bridge


Photo by Jack Klempe.

The original Ohio end
of the Spence Bridge
The Spence bridge opened on November 25, 1963. It was scheduled earlier, but delayed because of the assassination of President John F. Kennedy (for whom Spence argued the bridge should have been named).
19th Street Viaduct, new in the fall of 1931. More here.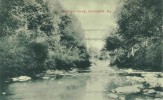 Banklick Creek, Covington