The Court House
and Court Street
Court House
& City Hall
Mason County Courthouse
and Presbyterian Church
Thanks! to Regina
Stewart for this image

"A criminal at the present term of the Circuit Court, on being asked by the judge if he had
anything to offer in his defense said: 'No. He had five dollars, but his lawyer took that.'"
Courier-Journal, November 10, 1873, reprinting an item from the Maysville Bulletin

Mason County Courthouse

Mason County Courthouse,
circa 1910

Mason County Court
House, March 30, 1941

"Lizzie Moore, Kate Bower and Fannie Washington, young colored girls, were arrested for jostling white women off the sidewalks and street crossings. The judge ordered their mothers to spank them." Maysville news, reprinted in the Warsaw Independent, August 18, 1906

Mason County Court House. 1912
Thanks to Paul Gallenstein for more info on this one: "The first building on the left is the current Sheriffs' Office (the one with the small balcony), the building next to it is the County Clerks and Circuit Clerks Offices, the building next to it is the Court House ( the one with the clock on top), and the building next to it is the First Presbyterian Church."
The clock is from Flemingsburg, where it was intended for their court house, but was determined to be unsuitable.
Charles Curran's poetic tribute to the Old Town clock, is here. (pdf)

...and as we understand the history of the Mason County Court House, it was built when Washington was still the county seat. Evidently there were some fairly powerful politicians who wanted it moved, so they had an election. They lost; the people voted to keep it in Washington. And the powers that wanted it moved said, "Wait, we did it wrong, let's try it again." So they had another election. And they lost again. At that point, they went to the legislature and had the State officially dictate the change of the county seat to Maysville.
The Second Election
The dictate.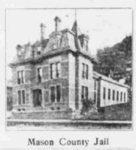 Mason County Jail, 1910
It housed its first prisoner on April 3, 1884
Description of an earlier jail in 1836.
Opera House and Post Office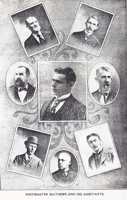 Maysville Post Office Workers, 1900

Maysville Post
Office,
Maysville Post
Office,
Maysville Post
Office, 1908

Maysville Post
Office, 1912


This Post Office first opened for business on Dec. 9, 1905

"The number of letters carried between Maysville and Cincinnati last month was 24,400.
Of that number, 2350 were deposited in the mail box on the boat." Courier-Journal, May 20, 1871

The 1794 Maysville postal route, here.

"On the 12th of April, the Western mail between Maysville and West Union, Ohio, was robbed. The mail driver and a man belonging to the town of Aberdeen were concerned. The sum of 335 dollars was found upon the post rider, who has been committed to jail." Freedom's Journal, May 16, 1828

Maysville City Officials, 1910
All of the government officials described here are from the
April 9, 1910 edition of Maysville's Public Ledger.
J. Wesley Lee, Mayor of Maysville
Charles C. Hopper, Revenue Collector
Charles D. Pearce, County Treasurer
Maysville Post Office, Clarence Mathews, Postmaster
William M. Daugherty, City Assessor
Judge C. D. Newell, Circuit Judge
Judge Garrett Wall
Andrew M. Cochran, Federal Judge
Louis Gaebke, Magistrate
Charles Slack, Coroner
John W. Eital, County Jailer
J. O. Pickrell, County Magistrate
Thomas Slattery, County Attorney
W. H. Mackoy, Mason County Sheriff
J. M. Collins, City Attorney
Judge W. H. Rice, Mason County Judge
W. P. Dickson, Mason County Clerk
John L Whitaker, Police Judge
M. J. Hennessey, Commonwealth Attorney
James Key, Circuit Court Clerk
Harry Ort, Chief of Police
Henry Childs, County Assessor
Maysville Trustees permitted to raise taxes for a city hall, in 1844,
An 1841 law said you could pay Mason taxes for road upkeep, or could go to work on the roads
1935 Maysville Officials
An earlier water supply system, c. 1910
At the foot of Lexington Street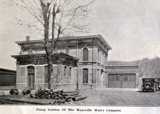 Story of the Maysville Water system, from 1935, here.
Maysville Water Company incorporates in 1837, here.

"The Maysville (Ky.) Water Company is having built, by the Geo. F. Blake Manufacturing Co., of New York and Boston, a condensing pumping engine of 2,000,000 gallons capacity per diem. Also an auxiliary pumping engine of 1,500,000 gallons capacity. These engines will have to pump against a head of over 350 feet."

Manufacturer and Builder

, July 1880.