www.nkyviews.com
Kentucky by Heart: Positive experiences at Camp Ernst leave lasting memories for thousands
Jun 12th, 2018 ·
I recently attended, as an alumnus, a celebration of the 90th anniversary of the YMCA Camp Ernst camp near Burlington in Boone County. I participated at the camp for only one summer, in 1972, as a cabin counselor, but my memories are vivid and positive. The rich experiences of working with children during that short time helped prepare me for teaching elementary students for several decades.
Over the years, thousands have been touched in a good way by the magic of Camp Ernst through its wholesome "spirit, mind, and body" program activities, as was obvious from talking to alumni on that special day, along with reading messages on social media from those unable to attend.

Long-time Camp Ernster (since 1973) Bryan McIntyre decided to take on the challenging task of writing a 33-page condensed history of the camp, now available, called The Memories We Shared: A History of YMCA Camp Ernst. I believe it will be of great interest to those who have a connection. Accordingly, Bryan says in the book's introduction: "However long the distance, however great the passage of time, we are drawn back to Camp Ernst again and again."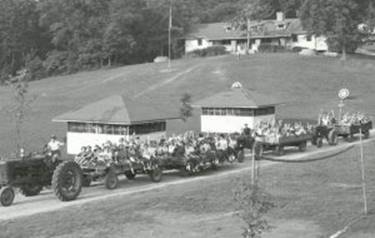 A tractor ride at Camp Ernst in 1950.

The Covington YMCA, noted Bryan, broke into camping in the 1920s when they "loaded boys onto a truck and took them to YMCA Camp Daniel Boone on the Kentucky River in Jessamine County," led by the young and respected Willard Wade as camp director. Soon after, Camp Big Bone, in Boone County, set up platform tents and a promising couple of years of the rudimentary camp experience took place — a forerunner to the current site near Burlington, several miles from Route 18.

Gifted by land donated by former U.S. Senator Richard Ernst, Camp Ernst opened in the summer of 1930, alas, facilitated by the same platform tents used at Big Bone. The camp now had its permanent home, however, and through the thirties gained support while it succeeded for both boys and girls. By 1936, cabins were built to replace the tents, and Camp Ernst was set to become a sustainable institution in this rural northern Kentucky area.

The 1940s saw an emphasis placed on programs at the camp that supported our country during World War II. Facilities were modernized by the help of the Y Men's Club when the dining hall and cabins were wired by them for electricity, and it was decided that swimming at the camp would move from Gunpowder Creek to a newly built pool on campus when enough funds could be secured. In 1948, Alonzo and Louise Ballard became camp cooks at Camp Ernst, and the two garnered much respect over the course of 36 summers they served there.

The years of 1950 through 1959 were also eventful. Bryan reported that the polio scare of the time was at its height, and after the assistant camp director contracted the disease in 1952, the camp was shut down for the rest of the summer. This also, Bryan stated, "led to urgency to complete the planned construction of a swimming pool to replace the swimming hole in Gunpowder Creek," and it happened by the summer of 1953. Many more facilities were added during the decade, including a new kitchen in the dining hall. In 1954, the first family camps were held.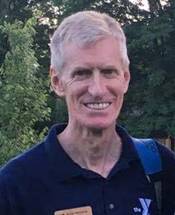 Bryan McIntyre

During the decade of the 1960s, a 25-acre lake was created on the Camp Ernst property, and for about a decade, water skiing became part of the program. Horseback riding was also added as an activity in 1961. Groups such as 4-H, Boy Scouts, and Girl Scouts regularly rented the camp facilities, and the Covington YMCA became the Northern Kentucky YMCA.

The boys' and girls' camps merged in 1976, and the swimming pool was refurbished in 1978. Alonzo and Louise Ballard, cooks extraordinaire, retired in 1983. In 1987, the Northern Kentucky YMCA merged with the YMCA of Cincinnati and Hamilton County to form the YMCA of Greater Cincinnati. Two local camps, Fort Scott and Camp Marydale, closed in 1988 and Bryan stated that it "is reasonable to assume that these closings played a role ultimately in the increased enrollment at Camp Ernst."

The 1990s saw the addition of the ZIP Line, the Giant Swing, the Burma Bridge, and the Air Walk, all popular activities. The 2000s changes included larger cabins because of higher enrollment, which exceeded 3,000 by 2007. A new pool and a successful capital improvement campaign fueled by friends and alumni has brought continued good things to Camp Ernst.

"In 1928," noted Bryan, "there were somewhere in the neighborhood of 200 campers for the summer; last year there were over 4,000."
Items mentioned here are only a few of what has happened at this special place. Bryan McIntyre's book is chock full of many more important bits of information, and it serves as a treasure for Camp Ernst Nation.

"This is my 30th summer on staff at YMCA Camp Ernst," said Bryan, who is a part-time English teacher at Northern Kentucky University. "I worked from 1973-1980 and from 1996 to the present; in between I served on camp's Board of Management."

A good friend and camp director from 1996 to 2010, Jon Perry, suggested to Bryan that he might write up "a little something" about Camp Ernst's history, and he agreed to tackle the project.

"I started by going through old camp brochures and photos," Bryan said. "Jon passed on notes from a few interviews he had conducted some years earlier, and I jotted things down I remember or heard about over the years from former campers and staff members who stopped by to reminisce." Bryan also found resources at the Kenton County Library helpful.

Though he is happy to offer The Memories We Shared, he noted: "I still view this as a work in progress; my focus is now on a much expanded version for our 100th anniversary in 1928." He also would like input from others connected. "If anyone has any stories or photos, please send them to me, " he said.

Though camp life has evolved during the 90 years at the camp, Bryan is somewhat philosophical about that certain magic that's a bit hard to explain. "I believe the spirit or the essence or whatever you want to call it has remained a constant," he said. "Visitors, some from quite long ago, note the changes; however, they also acknowledge that it is still camp—still home—still so full of memories. While there have been many serve on staff over the 90 years, there is just something about the kind of person who is drawn to work at a summer camp—people who understand what summer camping is all about—people who want to pass on the kind of childhood experiences they had at camp."

If interested in buying a copy of the book, call the camp office at (859) 586-6181.

.
Steve Flairty is a teacher, public speaker and an author of six books: a biography of Kentucky Afield host Tim Farmer and five in the Kentucky's Everyday Heroes series, including a kids' version. Steve's "Kentucky's Everyday Heroes #4," was released in 2015. Steve is a senior correspondent for Kentucky Monthly, a weekly KyForward and NKyTribune columnist and a member of the Kentucky Humanities Council Speakers Bureau. Contact him at sflairty2001@yahoo.com or visit his Facebook page, "Kentucky in Common: Word Sketches in Tribute." (Steve's photo by Connie McDonald)