Price Pike
Lexington Pike, East from Girard, Florence
postmarked Erlanger, 12-03-1914,
to Miss Lillian Corbin, 625 Washington St., Newport, Ky,
There was so much of interest in your last letter I can't even attempt to answer, so will
just send you a picture of a section of Pike St in Florence, looking toward Erlanger from Charley M's
Store - you will prize the view. The x is the P.O. Anna
The Old Store in Florence
an old postcard plagiarized from a John Uri Lloyd Photo
Ford Garage, 1930
US 42, going west from Mall Road
from a Mark Krummen post on Facebook
That's John Uri Lloyd standing in front of one of his boyhood homes, on Banklick.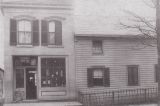 Florence Post Office
The post office was in Jim Tanner's Hardware Store, in the left in this image.
A hundred years ago, PO's were a cabinet in a corner store, and whose store housed the PO
was subject to change every time the political winds shifted.
A little background on Florence post offices is here. (pdf)
| | |
| --- | --- |
| | |
| C. W. Myers' Store, 1903 | Fred. Reich's Shop,1903 |
House on Main

House on Banklick Next
to Methodist Church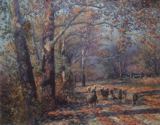 A painting by Thomas Corwin Lindsay
Stringtown on the Pike, c. 1901

A 1916 article on Florence is here.
The "Parson of Stringtown" writes a letter describing parts of Florence, here.