Temple Perrin moves his farm from Campbell to Grant County.
Discover the highest point in the county.

Chicago's Newberry Library has posted online a complete set of maps of American counties formations. They start with the date of county formation, and trace every little change to the boundaries after that. Grant County has had 6 such changes, and you can see the Grant maps here (pdf). To see the counties from which the county was formed, you'll have to download the entire Kentucky state pdf. There's also a feature that you can use to import all this data into Google maps. Good stuff!

The Grant County section of the USGenWeb is here, and
the Grant County portion of the Kentucky Roots Web is here.
In 1876, the Centennial of the US, the Congress asked local officials to write down the history of their
respective localities to be read on July 4, 1876. Here is what Grant County came up with.


"The Webster family forms an eighth of the population of Grant County."
From the Covington Journal, March 30, 1872
"LARGE FAMILY. —Chalk Webster, aged 74 years, who resides at Stevens Creek, in Grant county. Ky., is the father of 45 children. His grandchildren number 80, and his great-grand-children 27. He is now living with his fourth wife, who is a sister of the wife of one of his own sons. Father and son thus stand in the relation of brother-in-law to each other." Marysville Daily Appeal, August 25, 1865
In 1922, the Grant County News takes a stand on Darwin's Theory of Evolution, here.
The 19th Amendment (Wikipedia) to the U.S. Constitution, allowing women to vote, was ratified on
August 18, 1920. The Grant County News was not a supporter. You can read their objections here.
Ringling Brothers Circus Comes to Williamstown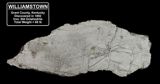 "A meteorite, weighing sixty-eight pounds, fell in Northern Kentucky, this one
being found by A. E. Ashcraft in 1892 on his farm three miles north of Williamstown."
Louisville Courier Journal, September 1, 1940

A little more on the1892 meteor, here. You can see parts of it today at either the Field Museum
in Chicago, or the American Museum of Natural History in New York.

The Kentuckiana Digital Library has a number of Grant County images. Quality can be erratic, but it's worth a look, here.
Also worth a visit is the Grant County Black History Museum
from the Frankfort Daily Commonwealth, February 2, 1864
By the way, the Emancipation Proclamation was effective January 1, 1863.
Murdering guerrillas in Civil War Grant County, more here.
Four news clippings on Grant County Slavery, here.
1843 slavery incident in Grant County, here.
A piece on slavery in Grant County is here.

(pdf)

"During Tuesday night twenty-three negroes owned in Grant and adjoining counties, left their masters' roofs, and escaped to the Licking River, where they lashed together several canoes, and in disguise, where they disembarked and made a circuitous route to the northern part of Cincinnati. Early Wednesday morning they were run off on the road to Canada by the underground railroad." from The Louisville Journal, June 16, 1854.
The Freedman's Bureau reports on a post-Civil War Outrage in Grant County, here.
Grant County slave couple elect to die rather than return to slavery, here.
Slave murders owner, here.
"In Grant County, Wm. Sleet, Eliza Sleet, Jesse Best, Edward Alexander, Mary Alexander, and Carter Rorst, were beaten in a most cruel and inhuman manner, their property destroyed, and they forbidden to return home, on pain of death. Carter Rorst was most terribly punished, gashes nearly six inches long being cut in his body and filled with salt. All of the above-named persons are reported as quiet, industrious black people." National Anti-Slavery Standard. October 12, 1867
An important figure in early Grant County church history is Elder
William Conrad. John B. Conrad's bio of him can be found here. (pdf)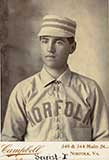 Theodore O'Hara "Doc" Sechrist, born in Williamstown, played for the New York Giants baseball team. A pitcher, he appeared in one game, on April 28, 1899. He faced two batters and walked both of them. Because they did not score and he did not record an out, he has no official ERA from his appearance. 
An additional incident in the Tobacco Wars of c. 1908 occurred in Mason, here.
And while the farmer above managed to raise and sell his crop, he afterward had to move to New Mexico to farm.
There was this incident in Elliston.
Grant County night rider murdered near Flingsville? Maybe. There was absolutely a real, old time shootout.
Grant County News encourages readers to not grow a 1908 crop.
List of Grant County Turnpikes, 1895, here.

1897 was watershed year for turnpikes, or as the Williamstown Courier called them "Turnpike Roads." People did NOT like paying tolls, and destructive vigilantes were not uncommon. There was an election on whether or not to "free" the pikes, that is, let the county raise taxes to assume all the costs, and give free passage.

The election results are here.

An 1897 list of all of the turnpikes, and more data than you ever wanted to know about them is here.

Two additional toll gates authorized in 1860.

A list of the 18 gate houses subsequently put up for sale is here. (If you buy #18, get the flood insurance!)

In May of 1922, Grant County voted on whether to approve higher taxes for the Dixie Highway, connecting Lexington and Covington. There's no doubt about how they felt. The vote is here.
This list of Grant County deaths from WWII is from the National Archives.
There's a key to what the various abbreviations mean here, and the actual list is here.
Grant County soldiers who died in WWI are listed here.
The Grant County School Teachers, 1906
Frank Turner hung by a mob, here.
Sam Eustis lynched. Later proven innocent. Here.
Earl Thompson is hung, sorta legally in Williamstown in 1910. Read the story here.
(While hung for rape, there were rumors - and it may well be just wild gossip - that Thompson had
been having an affair with the woman, and it was only when they were discovered that she cried rape.)
Liman Couch and Smith Maythe were lynched for their attack on John Utterback in 1841, here, and here.
Another take on Smith Maythe is here.
"At Williamstown, Tuesday morning, a mob took from the jail a prisoner charged with murder. At this writing the fate of the man is unknown." Boone County Recorder, September 20, 1877
A summary of a number hanging in Grant County are discussed in this item from the papers of Pendleton County historian E. E. Barton.
Grant County items from Lewis Collins' History of Kentucky, here.
In 1883-84, the R. L. Polk Company published a new edition of his Gazetteer, which included these Grant County communities:
Cordova
Corinth
Crittenden
Dry Ridge
Elliston
Gardnersville
Holbrook
Mason
New Eagle Mills
Sherman
Williamstown
Zion Station
An 1879 Gazetteer listing of Williamstown is here. (pdf)

Jacob Theophilus Simon had his bio (pdf) in the Biographical Encyclopedia of Kentucky.
When the Boston Celtic's legendary Bill Russell was a rookie, who on the team did he look to for mentoring? That would be Williamstown's Arnie Risen. Risen

(Wikipedia)

is in the Naismith Basketball Hall of Fame. He was on two NBA championship teams, and is a four-time NBA All Star. He also led Ohio State to two NCAA Final Fours. Video at this site.
"We haven't received a spring poem this year. Thank the Lord."
from the Williamstown Courier, April 6, 1893, Robert Westover, editor
Detailed Presidential voting statistics from Grant County are here.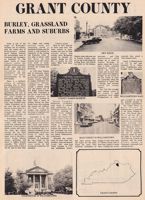 A souvenir newspaper from the American Bicentennial had this page on Grant county.
| | | |
| --- | --- | --- |
| | | |
| This is a geologic map of Grant County from 1925. Note the one-room school locations | Robert Rennick drew this map to identify many of the locations of US Post Offices over the years in Grant County. | Geologic Map, 1931 |
Additional Links that apply to all of Northern Kentucky Views, and may or may not be
related to Grant County, are on the main Links & Miscellany page, here.