Second Street, looking West
Provision & Munitions Wagon Train, 1861
The government shipped 5,000 guns to Lexington to support Union troops.
They came by boat to Maysville, and went overland to Lexington.
Fire at Beechwood, c. 1978
from a Facebook post by Mark Humphries
Sixth Street


From a Facebook post by Camilla Kehoe

Maysville Scene
A 1910 item on the Maysville Street Railroad is here.


You can find 50 or so Maysville scenes from the late 1960's and early 1970's at UK. The relevant UK site is here.

S. J. Daugherty, Monuments
Thanks to Bill and Judy Cooper for this one.

Maysville, 1940
The Russell Theatre, Maysville
Read the story of the grand opening of the Russell Theatre here.
A description of the Russell from 1935 is here.

The Russell Theatre has its own website which you can find here.
The Boy's Club
The Limestone Center is at this location these days.



A Walking Tour of Maysville, with descriptions of notable sites. Here. (pdf)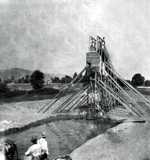 At "a fair near Maysville"
A diving horse act was a thing, c. 1890-1910
Wikipedia has more on such acts.

P.T. Barnum's Great World's Fair, Museum, Menagerie, Caravan, Circus, and Colossal Expression of All Nations
left, August 7, 1875

An 1871 city directory of Maysville lists, with addresses, each of the towns citizens, here (pdf).
(and by "citizens," since it's 1871, we're talking white men and a few widows)
It also has a listing of businesses, by business type, and with some ads, here (pdf).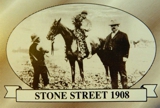 The jockey shown here is Arthur Pickens, whose wife was from Maysville, and Maysville was Pickens home after he retired. He's in the Jockey Hall of Fame, had 76 career wins, and in 1908 won the Kentucky Derby atop Stone Street. Read more about him at the Maysville Ledger Independent, here, or at Wikipedia.
Stone Street won the 1908 Derby, but still holds the record for the slowest winning speed ever in a Kentucky Derby. He died a gelding.
Image from a Facebook post by Ron Bailey
Market House, 1829-1883. More on the Market House is here.
A correspondent from "Washington City," who signs himself "O.B.," wrote a series of sixteen letters describing his memories from the Maysville of yesteryear, 1832. Some are long; some short. All are pdf's. The Market House picture above is also used by him.
Letter 1
Letter 2
Letter 3
Letter 4
Letter 5
Letter 6
Letter 7
Letter 8
Letter 9
Letter 10
Letter 11
Letter 12
Letter 13
Letter 14
Letter 15
Letter 16

A Walking Tour of Maysville