Aerial View of Bromley
from a Tom Dryer post on Facebook
Fred Folz, General Blacksmithing and Horse Shoeing, Bromley, Kentucky
from a Facebook post by Steve Kottmyer, of his Grandfather (on the left)

Main and Pike


from a Facebook post by Tom Dryer

The Bromley Ferry


On Bromley/Crescent Springs Road
from a Facebook post by Tom Dryer

Mueller's Drug Store


from a Facebook post by Tom Dryer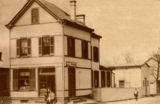 Charles E. Maegly Grocery
"Dealer in Staple and Fancy Groceries, Provisions, &c."
northwest corner of Main and Shelby, Bromley, Kentucky
Grocery operated from c. 1902-1930


Bromley, c. 1955
from a Facebook post by Michael L. Green
These are the stores of Mrs. Christiana Kaye, widow of Charles M Kaye.
That's her confectionery at 116 Pike Street in Bromley and her Notions store
next door at 118 Pike. We assume, but don't know, that that's her in the pictures.


Bromley Fire Truck
The day after the blizzard on the
day after Thanksgiving, 1950
Bromley, 1883

Thanks! to Steve Cohen for some of the images on this page.
"Let's prepare people's food in a former sewer treatment plant!
What could possibly go wrong?"