Officially: The Greater Cincinnati Northern Kentucky International Airport.
And if you're from out of town, yes, the Cincinnati Airport is in Kentucky. It's three digit
name - CVG - is an abbreviation of Covington, the area's largest city. You can see
Cincinnati in the upper left card below.

Artist's Projections
unknown years
1950


From a Facebook post by Linda Kreindler
The back of the terminal had an observation deck.
From a Facebook post by Robert Schwab

These five are Cincinnati's Lunken Airport in the 1937 Flood
One of the reasons the Feds chose to put the new larger airport in Kentucky
was the earlier flooding of Lunken, a.k.a. Sunken Lunken, where a plane first landed in 1918.
That, and the City of Cincinnati couldn't make up their mind between Lunken, or Blue Ash, or Hamilton.
And a 1941 Hamilton County bond issue to fund an airport failed.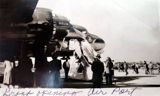 CVG officially opened on January 10, 1947. Details. The first commercial flight landed at 9:18, an American Airlines flight from Cleveland. The Delta plane shown here arrived minutes later.

From a Facebook post by Tim Abdon.

These days, the airport covers over 7,000 acres in Boone County, but the original 928 acres in the center
are still owned by Kenton County. It's the only instance in the state where one county owns land in another county.

1954


from a Facebook post by Nancy Audubon

Trans World at CVG in 1957
CVG drawing from Caroline Williams, 1962
John F. Kennedy at CVG, October 8, 1962
A key to who we can identify in the picture is here.
If you can identify others, please drop us an email. Contact us here.
The Greater Cincinnati Airport
Camels for Mildness


From a Facebook post by Boyd Rick Bingham

CVG Proposal
Barkley House Airport Motel, 1968
Only 17 Minutes from Downtown Cincinnati
110 lavish, air-conditioned, soundproof rooms and suites. HEATED SWIMMING POOL, patio terrace, recreation lounge, Television, clock-radio and hi-fi in every room. DeLuxe meeting rooms, banquet facilities. Free parking. Courtesy car service to and from air terminal.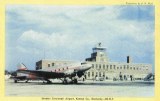 ""Greater Cincinnati Airport, Kenton Co, Kentucky"

The news of federal funding that would make CVG a reality came on September 30, 1942 in
a Western Union Telegram from Sen. Alban Barkley to Kenton County Attorney Wm. Wehrman.
It read "Covington approved allocation of two million dollars, three runways."

Stunt fliers, at a September,
1948 air show
National Guard planes
at the air show.
"Two giant airliners refuel
and prepare for flight"
a B-29 bomber flies in
non-stop from Barber's
Point, Hawaii
Administration Building
In Kentucky magazine ran a feature on "The Kenton Country Airport" in it's Winter, 1949 issue.
The above five pictures are all from that story. The text of the story is here.

| | | |
| --- | --- | --- |
| The worst crash ever at CVG was TWA flight 128 on November 20, 1967. Read about it at Wikipedia. It landed short, of the airport at an old Hebron race track. | Air Tahoma Flight 185 crashes during an approach to CVG on August 13, 2004. You can read the NTSB's report here, but beware it's a huge pdf file. | A horrible crash at CVG was on November 8, 1965, when an American Airlines Boeing 727 crashed into the hill above Constance. The NTSB pdf is here, but beware it, too, is a very large file. |

Dedication Ceremony
October 27, 1946
Not a map, but a photo from astronaut Shane Kimbrough

(Wikipedia)

, of CVG. June, 2021.

The Official site of the Greater Cincinnati Northern Kentucky International Airport (it's official name) is here.

Thanks to Gary Recht for directing us to this site, which may have more information about CVG than you wanted.

There are 11 family cemeteries on the airport
grounds, all well maintained by the airport. This chart is
from a Kentucky Post article on them