Lexington Pike, East from Girard, Florence
postmarked Erlanger, 12-03-1914,
to Miss Lillian Corbin, 625 Washington St., Newport, Ky,
There was so much of interest in your last letter I can't even attempt to answer, so will
just send you a picture of a section of Pike St in Florence, looking toward Erlanger from Charley M's
Store - you will prize the view. The x is the P.O. Anna
The Old Store in Florence
an old postcard plagiarized from a John Uri Lloyd Photo
Ford Garage, 1930
| | |
| --- | --- |
| | These two locations on Main Street in Florence are on the National Register of Historic Places. Applications here - each a pdf - contain histories, maps, and interior and exterior photography. |
| Florence Fire Station | Florence Hotel |
Price Pike
That's John Uri Lloyd standing
in front of one of his boyhood
homes, on Banklick.
US 42, going west from Mall Road


from a Mark Krummen post on Facebook
US 42, we believe looking northeast at what today is 42 and Wetheringon
From a Facebook post by Old Northern Kentucky
Shelby Street, looking toward Main
From a Facebook post by Gin-Nie Tanner Smith

Florence Post Office
The post office was in Jim Tanner's Hardware Store, in the left in this image.
A hundred years ago, PO's were a cabinet in a corner store, and whose store housed the PO
was subject to change every time the political winds shifted.
A little background on Florence post offices is here. (pdf)
We love the images that seem to be of absolutely no interest when they were taken, but years later would show a very busy scene. You're looking south on I-75 in 1970. If you could look to the right, y'all would see a giant water tower.

From a Facebook post by Winston Beech.
| | | |
| --- | --- | --- |
| | | |
| Greenview Road, looking north from Burlington Pike, August, 1956 | US 42 / I-75 Exit in Florence, 1964 | |
C. W. Myers' Store, 1903
Fred Reich's Shop,1903
House on Main
House on Banklick Next
to Methodist Church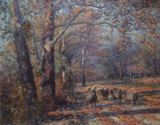 A painting by Thomas Corwin Lindsay
Stringtown on the Pike, c. 1901

| | |
| --- | --- |
| The Florence Hotel Building is on the National Register of Historical Places. Read the text, and see the pictures, both pdf's. | A 1916 article on Florence is here. |
| In 1907, the president of the Burlington-Florence turnpike acknowledges that maybe autombiles are here to stay. | |
| In 1843 you didn't have to pay taxes for the upkeep of the roads in Florence. There was, however, this. | The "Parson of Stringtown" writes a letter describing parts of Florence, here. |
| Complaints in 1881 about the tolls on the road from Florence to Silver Lake. | Suffragette has success in Florence. |