Scrip [Wikipedia] from the Petersburgh Steam Mill, Petersburgh, Kentucky, 1817. 1817!
Legislature authorizes the steam mill.
Farmers Bank of
Petersburg, 1930
circa 1910
Farmers Bank of
Petersburg, 1903
Farmers Bank of Petersburg, June 17, 1903 - June 25, 1970

"The Bank of Petersburg, Boone county, has gone into voluntary liquidation. At a meeting of stockholders on Monday last week, it was decided best to wind up the bank's affairs and quit business, and the cashier, Ernest L. Grant, was ordered to pay off depositors in full, to receive no more deposits, to collect the debts due the bank, and report to the stockholders' meeting on the 19th inst." Courier-Journal, March 11, 1898 (obviously an earlier bank, not the ones pictured, which was also liquidated, at a later date.)
The Bank is on the National Register of Historic Places. It's application is here

(pdf).

An earlier bank, The Bank of Petersburg, was established

(pdf)

in 1888.
Robbed in 1959.
Cannery in Petersburg
Tomato Cannery being built, 1907.
Schramm's Tavern, Hotel
Crisler Hotel,
Petersburg Dry Goods
and Millinery, n. w. corner
of Tanner & First
Holloway's Store,
I.O.O.F. (Odd Fellows)
Berkshire - McWethy Shop
on first floor
Berkshire & McWethey's
Store, 1903
More on Berkshire & McWethey is here.
The Odd Fellow Hall is on the National Register of Historic Places. It's application is here (pdf).
Leaving Petersburg, c. 1960
From a Facebook post by Herbert Ginn
E. T. Kurtz & Son's Store,
First and Market

The Opera House,
Petersburg, circa 1965.
It's also been Modest Apparel, a sewing factory.
Thanks! to James Horton for the color image

Earlier still, it was known as Gordon's Hall

(pdf)

, and you can read more on on the application to the National Register of Historic Places.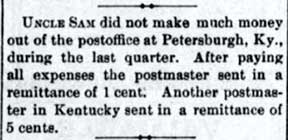 The Maysville Evening Bulletin, January 6, 1897
Boone County Roller Mills
Boone Roller Mills, Exterior and Interior
Front and Grant Streets
from Holloway's Service Center, Petersburg

"Petersburg, Ky., Aug. 20. - When Al Rogers opened his store at sunrise Friday morning he found a burglar working at the safe. The burglar fled after being kicked in the stomach by Rogers, who says the intruder is a citizen of Rising Sun, Ind. He had lit a fuse, but Rogers stamped it out."- Maysville Evening Bulletin, August 20, 1904

For substantial portions of the Northern Kentucky Views Petersburg images,
we are indebted to the E. Y. Chapin Library in Petersburg, and to Ms. Bridget
Stiker, at the Hebron Branch of the Boone County Library.