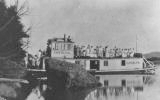 Excursion Boat to Split Rock
Split Rock, on the Ohio River, near the mouth of Wolper Creek
Postmarked Lawrenceburg, Ind., 1912. to Mrs. Eugene Booth, 541 Terrace
Avenue, Clifton, Cincinnati, Ohio, My Dear Nanny - All is well. Will be up
Saturday on the train. Look for me at Pogues. Have the tickets. Lovingly, E.C.G.
This late 19th Century map refers to Split Rock as "Kirby's Rocks"
The Split Rock's Conservancy's contemporary map of the Split Rock location.
Bernie and Victoria (Peggy) Schilling, at Split Rock, 1939
From a Facebook post by their daughter, Linda Schilling Mitchell
Directly across from Split Rock was the Laughry Club - a country resort for Cincinnati elites. A short history of it is here.

A 1904 piece on Split Rock is here.
On August 19, 1906, the Courier-Journal ran a feature on Split Rock.
Shenanigans at Split Rock