Part 1

Virtually all of the images on this page are through the kind cooperation of Mrs. Ann Fillmore, and were previously published in Ryle
High School PTSA's A Peek Into The Past: A History of the Union and Richwood Areas. Thanks, Ann.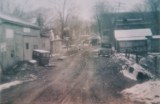 Entering Union, from Hathaway Road, circa 1910
An aerial view of Union, looking southwest, circa 1910
The image on the right is a key to what you're seeing in the image on the left.

The City of Union is here