Greendale, home of A. C.Weisbrodt, Bradford
Inskeep's Sawmill, Bradford, c. 1915
from a photo in the Kentucky Explorer.

"The editor of the Western Emigrant, published at Bradford, Ky., was lately assaulted in his own office by two ruffians, one a deputy sheriff, and during a short scuffle he had an ear bit off, and one of his eyes gouged out. So says the Louisville Journal." as reprinted in Richard H. Thornton's 1912 An American Glossary.

Notorious outlaw captured at Bradford.
2,000 people attended a pole-raising in Bradford, here. What's a pole raising? Your ancestors were very familiar with them. Learn more here.
Bradford's Doctor Lytle refuses to make a girl an honest woman; is shot. Details here.
The Bradford School House is on the National Register of Historic Places.

(pdf)

"Bradford, Ky., November 12. - The residence of Colonel John Preble, at Preble's Cross Roads, was totally destroyed by fire on Saturday night. Colonel Preble loses his private papers and all his household furniture. Dr. Jas. Barrett, who boards with Colonel Preble, lost all his instruments and a valuable medical library. Cause of the fire, defective flue. Loss $2,500. No Insurance" Cincinnati Enquirer, November 13, 1877
The news from the Bradford M. E. Church, here.
Bradford was incorporated as a town by an act of the Kentucky General Assembly on February 10, 1866.
"John Lehman and Martin Bloch left [Bellevue] yesterday for a brief hunt at Bradford, Ky." Cincinnati Enquirer, December 1, 1903
"Messrs. Thomas Scherlock and Theo. Jordan have just returned from a most successful hunting trip down at Bradford, Ky., where they were extended the most cordial hospitality as guests of Mr. and Mrs. Charles Taylor. Mr. Taylor's lands comprise a couple of thousand acres of the best shooting ground in Kentucky." Cincinnati Enquirer, November 28, 1897
"Mr. James Taylor has returned [to Bellevue] from Bradford, Ky., where he enjoyed a three day hunt." Cincinnati Enquirer, December 17, 1897
"That was a gay lot of the Nimrod fraternity that went up on [Covington] Councilman Ahler's boat for a hunt. The crowd was comprised of Tony Heile, Wis B. Wilson, Ben Davis, Fred Ahlers, John L. Sanford, Dick McGraw, Henry Robinson and a half a dozen others. They went to Bradford, Ky., on the Ohio River. They killed twenty-two ducks, sixty-five rabbits, eighty-three quails, twenty field larks and captured alive a few small "birds" which were served upon the boat in great style. The boys had a regular Thanksgiving dinner on the boat, and washed down the delicacies with champagne. The festive board evidently was well patronized, as the boys did not have any game when they returned." Cincinnati Enquirer, November 28, 1890


The Catholic Telegraph, March 22, 1888


Johnsville Street Scene, c. 1935
"Augusta, Ky., Three hooded members of the Knights of the Ku Klux Klan entered the Johnsville church while services were being held and presented the pastor with $20. Two other robed figures stood guard the door." The Kentucky Post, November 26, 1923
Johnsville was incorporated as an official city by the Kentucky Legislature on April 28, 1884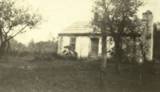 "Schoolhouse in Bracken County where my father taught"
Between Augusta and Minerva
on the Dover-Augusta Road.
Not still standing, it was replaced
by a steel truss bridge that sits on
this bridge's stone foundations.

The Walcott Bridge,
October 18, 1952
The Walcott Bridge is on the Nati0nal Register of Historic Places. (pdf)

Hancock's Store, Lenoxburg
from a Facebook post by Susan Colbert Taylor
Lenoxburg women threaten a saloonist, here.
An elopement on the first day, turns into some thing more nefarious by day two.
A Lenoxburg couple elope to Foster, catch a steamer, and get married on the river. Here.
Lenoxburg was incorporated as an official city by the Kentucky Legislature on April 24, 1882, in an act that recognized it was in both Bracken and Pendleton Counties.
"Minerva, Ky., April 28. – Reese Kirk and Thomas Horan, both drunk, had a shooting scrape here in which neither was hurt. Horan used an oath and told Kirk he would shoot him. The later walked to the middle of the street and told Horan to shoot. He took deliberate aim, fired, and then ran, but missed his man. Kirk then fired at Horan with like result." Greencastle Banner and Times, April 30, 1897

We know very little about two former towns in Bracken County called Tietzville,
and Hillsdale but found'em on this Bracken County map from the 1870's

The steamer Kentucky burned at Smith's Landing, near Wellsburg / Tietzville in 1856, here.
Wellsville soldier in the War of 1812 returns home after being held by the British for 25 years. Sad details here.

NKY Views has a page dedicated to the paintings of the Alke's. These are paintings by Elizabeth Heil Alke (1877-1938). They're c. 1920's. She was the wife of her more famous husband, painter Stephen Alke (May 14, 1874 - 1941), who was born near Augusta. They eventually settled near New Richmond. Their work frequently uses Bracken County Scenes. See'em here.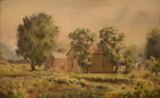 A Harlan Hubbard painting, "Two Cottages Near Wellsburg"
c. 1930
The Bracken County Infirmary in Chatham is on the National Register of Historic Places. (pdf)

Chatham man gets "gloriously drunk" and has a "wild west escapade" in Mason, Ohio, here.

Highway 10, near Berlin, 1939
formerly the home of S. B. and Honey Case; later the home of O. L. Grigson
Merchants Creamery Co. "On the Square," in Berlin. Janice Greene 

tells us: "Man standing by the door is the owner Ray Lytle, young boy seated is Vance McClanahan the last man seated is Arthur McClanahan, Vance's father."

Dayton (OH) Daily Empire, March 17, 1860
Scratches is disease that affects horses (Wikipedia).
Berlin was originally named Hagensville, and is believed to date back to before 1800. The Berlin name is from German settlers who came in and wanted it to be named after the city in their old country. Berlin became an incorporated city on March 15, 1869.
"It has only been a few weeks since McClanahan & Riley, of Berlin, this county, opened up a distillery, and now they are paying fines in $50 chunks for selling their product by the quart, contrary to law, and their place is temporarily closed." Cincinnati Enquirer, April 13, 1889
A stabbing as a result of the election in Berlin, in 1880, here.
Insurance underwriter records compiled in 1892 suggest that there was a Bracken County distillery was of frame construction. The property included a single bonded warehouse, of frame construction with a shingle roof, 100 ft west of the still. At that time, it was being operated by Meyer & Bradford, late A P McClanahan. The only IRS transaction - because whiskey was taxed coming and going - was for a withdrawal of product from the warehouse in 1898.
An 1871 letter describes Berlin, here. An 1869 letter is here.
Story of a 1919 Berlin's man's body is found murdered, here.

Judge and Mrs. H. E. Ward, 1939
Rockspring Pike, between
Brooksville and Bladeston

Mrs. S. B. Case,
Powersville Pike, 1939
Bethany Church of Christ, between Berlin and Lenoxburg. Made in 1861 from bricks made on site (where the pond is now!) by A. D. Houston. This building was destroyed by a tornado on June 30, 1936, and a new building was built on the same site, and dedicated on July 9, 1939
First German Protestant Church, on the Augusta-Berlin Road. Begun in 1875 by Rev. Andes, this building was dedicated in 1875. By 1927, the congregation had outgrown their building on Locust Creek and bought property in Chatham. The brick church, St. Paul Lutheran, was dedicated December 23, 1928 on the same site as this building.
Thanks to Judy Cooper for these images.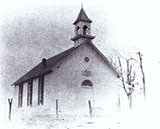 Asbury Methodist, on Parina Road
Wesley Chapel Methodist Church, Neave. The Rev's Robinson and Richie held a revival in the Neave schoolhouse in October, 1915, and this church grew from that. Wesley Chapel is named for John Wesley Stump, who donated the land it sits on. This building was destroyed by a tornado, March 19, 1948.
Willow Baptist Church. This church traces its roots back to 1818, and was started from members of the North Fork Church in Milford. Philip Buckner donated land for the first church, built in 1827. This building was completed on February 16, 1856, and a new brick building, across the road from this one, was dedicated August 6, 1967
Thanks to Judy Cooper for these images.

Carol Klaber's History of the Willow Baptist Church is here. (pdf)

"In a shooting affray in the village of Neave, Bracken county, Ky., Dr. Edward Courtney killed Dr. John Carney, his former business partner." Courier Journal, December 10, 1904 Details, here.

Map of the membership of the Bracken County Association of Baptists, 1966
Mt. Zion Methodist Church, Gertrude. Originally built of logs on land donated by Ferdinand Dora, the current building is of brick, which are believed to have come from the farm of a Squire Hardy, nearby.
A rock wall and a few graves are all that's left of this church on Parina Road outside of Brooksville

Thanks to Judy Cooper for these images.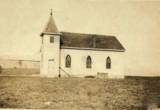 Neave Church
Destroyed by a tornado, c. 1947
from a Facebook post by Rick Brown
| | |
| --- | --- |
| | |
| Concord United Methodist Church, Bladeston. Established September 9, 1872 as Concord Union on land donated by George Washington Poe and his wife, on Poe Creek. She named the church after her original home, Concord County, Scotland. Not the location of the current church. | Cemetery Chapel Christian Church, at KY 1019 & Eden Ridge at Lenoxburg. Founded in 1892 with members from Foster and Eden Ridge Methodist. Torn down October 19, 1937; the first service in the new church was April 3, 1938 |
| Thanks to Judy Cooper for these images. | |
Sharon Presbyterian incorporated by the state in 1845.
"Theodore Carter was brought to town late last night and placed in Jail, charged with posting White Cap notices against some prominent citizens near Lenoxburg. Failing to secure bail he lingers in jail." Cincinnati Enquirer,May 4, 1889 What were the white caps? Mostly this Klan-like group operated in Indiana, but there are several instances of them operating ion Northern Kentucky. The Wikipedia article detailed them is here.
Abner Holton Store in Neave.
Other people who subsequently owned the store included Howard Showalter,
Mr. Jett, D. A. Blades, Theo. Moreland, Virgil Ramsey, Garnett Teegarden,
Mary Cain Perkins, and Delmar Moorhead.
Brook-dale Farms, 1939

John C. Kalb Family
Hackett Ridge
2 miles east of Brooksville
Moransburg School Bus
from a John Henderson post on Facebook
This history of Browningsville (pdf) is from the Bracken County Historical Society's newsletter.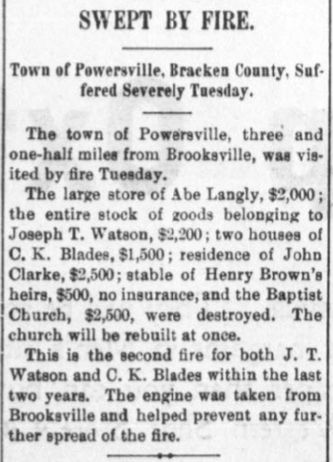 Maysville's Evening Bulletin, June 5, 1902

Powersville Baptist Church. Founded by members
of Brooksville Baptist on January 17, 1885. This building
was destroyed by a fire on June 3, 1902, The current
church is on the same location.

Thanks to Judy Cooper for the image.

Home of William Buckner, Powersville
Powersville goes dry, here.
"[Latonia's] Rev. Runyan went to Powersville yesterday to conduct the dedicatory exercises of
the new Christian Church of that place tomorrow." Cincinnati Enquirer, August 20,1903
U. S. S. Bracken
capturing supper on the
USS Bracken, July, 1946.
More about the U. S. S. Bracken at Wikipedia.

A boy charmed by serpents? We have doubts. The story's
here
.