The Altamont. Wow.

Aerial View
of the Fort

Aerial View of Fort
Thomas, 1926

Fort Thomas,
circa 1937
| | | |
| --- | --- | --- |
| | | |
| 1946, looking north | 1946, looking south | |
Fort Thomas,
Aerial 1937

Fort Thomas,
September, 1945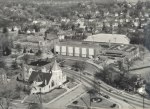 Aerial View of High School, and what was then the new Middle School, circa 1964
Thanks to John Deering for the image.
A View of Fort Thomas

A curious bird's eye
view of Fort Thomas, 1907
"Peaceful Valley, near Fort Thomas, Kentucky" postmarked 1907
Tom Taylor and Patty Stanger Ludwig have identified this one as looking toward Ft. Thomas, roughly from the location of Memorial Parkway and Taylor in Bellevue. That's Waterworks running to the distance, and in the far distance - upper left and upper center left - you can see what is today Memorial Parkway, what was then the #11 streetcar line. Thanks folks, this one was always a puzzler.

The Fort
1950 Census Enumeration map of Fort Thomas
Views from the Tower
St Luke, c. 1970's