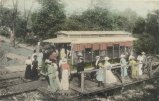 Inverness Kentucky Golf Reception Day
(or, as it says on the card "Beception" Day)
They're traveling on the Cincinnati, Inverness and Fort Thomas Railroad
In current terms, this scene's on Memorial at the Foot of Dixie Avenue

Inverness Golf Course, Kentucky
A little more information about the Inverness Golf Club is here.

Newspapers essentially went nuts when the Inverness Country Club opened, as in these stories of its opening:
Enquirer, Post, Commercial Tribune and another Commercial Tribune, Daily Commonwealth, and Chic.
The Inverness Country Club Membership Card, and a menu. 1900
The original Highland Country Club clubhouse from 1915.
C. C. Weber, Architect
It burned down in 1968.
The current clubhouse is built on it's foundation.
| | | |
| --- | --- | --- |
| | | |
| Golfers at Highland | Highland Golf Club, 1948 | Highland Country Club, 1957 |