St. Luke
Aerial of St. Luke, c. 1950's


from a Facebook post by Steven Cropper

St. Luke
St. Luke's Hospital

St. Luke's Hospital

St. Luke's Hospital

St. Luke's Hospital, 1958

Note the later images - left - show a 5 story building. Earlier images - right - were taken before the top two floors were added.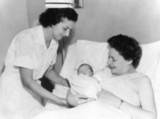 St. Luke's first patient was admitted on July 14, 1954. Ironically, even though the hospital was
built to fulfill Campbell County's need for it, the first patient, Mrs. Edward Shulte, was from
Kenton County. She gave birth to a son, whom she of course named Clifford Luke Shulte.
First St. Luke Board, 1954.
key to men in the image

Cheery Cherry Pink Party was
a fund raising event by ladies of
a volunteer auxiliary of St. Luke,
circa 1960s
St. Luke Pediatric
Tonsilarium, 1954. Teddy
bears likely from the Ruth
Lyons Christmas Fund
Dorothy Casey, RN in
emergency room, 1954
Nurses,
circa 1950s
Christmas babies,
Lori Stegner Acuff tells us this is Christmas,
1967, and that's her twin brother Nick (right)
and sister Noel in the near row. Thanks, Lori.
Christmas Eve twins!


Notorious Newport Club Owner Frank "Screw" Andrews met his death on December 17, 1973,
by going out a window at St. Luke. Whether he was a suicide, and he jumped, or
whether he was pushed, depends on who you ask. Ask us, and we'll say pushed.

Thanks! to Charlie Schicht for a bunch of these St. Luke pictures.