The Lubitorium
The Fort Theatre
There's a Subway there now, and it was at one time home of the Busy Bee Bar, and earlier still a Cadillac dealership. Note the trolley tracks. Car believed to be a 1932 Ford.

Donald Neumeister & Paul Stegeman posts on Facebook.

These days, the building on the right is Coffman's Realty.
Hiland Theatre with Tea Room and Candy Store
The Highland Theatre opened on August 3, 1927, and seated 750. The first show was Senorita, starring Bebe Daniels. It closed in March of 1979.

left, From a Facebook post by Billie Herzner Donlin of a Jean Callaghan photo.
The Fort Thomas Business District is on the National Register
of Historic Places. The application (pdf) contains lots of images, history, and architectural details.

Stegner's Grocery
Ft. Thomas Avenue at
Miller, c. 1905
Stegner's Grocery,
c. 1930
Ruth Pulsfort and George H.
Stegner inside the store
Stegner's


From a Facebook post by The Campbell County Historical and Genealogical Society
Inside the remodeled store
in 1958 after a fire.
That's George H. Stegner, Ruth Pulsfort,
and George's wife Marie in the front;
Marge Jarvis and and Bill Wessel in the rear.
A cookie display
inside the store.

At the corner of Audubon Place and the Avenue
George and Anna Scharold's Grocery


1135 S. Fort Thomas Avenue




from a Facebook post by Cathy Martin
Busy Bee Carryout, 1934
Ft. Thomas Avenue at Highland
Later, the Cake Town Parlor.
Later still, a Subway.

Inside the Clover Leaf Store, 1959
David Mahaney writes on Facebook: "The Clover Leaf Dairy
was at the top of Highland Ave on the South side right behind
the Highland Bank that was on the corner of Highland and S Ft
Thomas Aves. There also was a Clover Leaf Dairy on S Ft Thomas
Ave at the corner of Shawnee Ave. Just south of entrance to
the Army Post which is now Tower Park. Earlier, the The
Jersey Farms Dairy Store."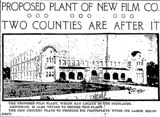 Then there was the 100 acre film studio they were going to build in Fort Thomas, or maybe Ludlow. Details.
Al Stegeman's Highland Auto Garage Co., left, 1923
Cadillac & Oldsmobile. C. C. Weber, architect.
later a roller rink; still later a Kroger; currently a Convenient Store/Bank parking lot
Albers, a grocery chain, denied beer permit in 1938 - too close to a church.
Boron,
1501 Alexandria Pike, 1972
E. D. Collins Motor Co., c. 1930
Bivouac and Ft. Thomas Avenues
Log Cabin Service Station
Floyd Prickett, Proprietor
Alexandria Pike (where
Moore's Home Improvement was)

Dietrich's Club House,
The car on the right is a 1910 Reo, and
the one on the left a 1910 Packard.
Summit Lodge


From a Facebook post by The Campbell County Historical and Genealogical Society

Summit Lodge
Dietrich's / Summit Lodge was at the corner of South Fort Thomas Avenue and Grandview. If you want a little more background on it, go here, and also here.

The Catholic Telegraph, May 13, 1920

The Catholic Telegraph, June 29, 1922


Schulker's Drug Store started in Bellevue, moved to Fort Thomas
when the business changed hands.
From a Facebook post by Bev Achzehner Harber
As demonstrated here, early post offices could be placed anywhere, and moved sometimes with each election and the patronage therefrom. This is Col. Egbert and Judge Newman's tobacco store, a couple of hundred feet north of the tower, and a US Post Office, among other things. More on Colonel Harry Clay Egbert.
Bob's Deli, on Grand


From a Facebook post by Barb Fischer

The Busy B, August 10, 1978
From a Facebook post by Fort Thomas Matters

Dobbling and Son Funeral Home
Highland Telephone Exchange
Mt. Pleasant and Highland Avenues

1937 Flood Scene in Fort Thomas

Inside the Exchange

One of the problems in the 1937 Flood was the lack, or feared lack, of electricity. To fight that, the telephone company brought in generators to their exchanges to insure the phone system would be working.

Fort Thomas telephone operator stands her ground.
Newport National
Bank, 1971
Inside Fort Thomas's
Highland Bank,
Fort Thomas Bellevue
Bank, 1970

Fort Thomas Bellevue Bank, 1955.
The building opened on March 26, 1955.
Wiedemann's Bakery
From a Facebook post by Don Prather
Fort Thomas
Building & Loan
Highland Bank
The Highland Bank opened May 2, 1925 in the Midway District


From a Facebook post by Bev Achzehner Harber
Paul Sipes, President,
Highland Bank
Howell R. Hensley, President,
Fort Thomas Bank
Fort Thomas Savings and Loan,
25 N. Fort Thomas Avenue,
Jan. 1, 1901 to June 15, 2000


From a Facebook post by Don Prather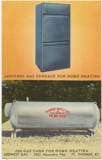 Midwest Gas, 2557 Alexandria Pike, Fort Thomas