The Fort Thomas Business District is on the National Register
of Historic Places. The application (pdf) contains lots of images, history, and architectural details.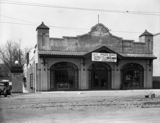 At the corner of Audubon Place and the Avenue
Inside the remodeled store
in 1958 after a fire.
That's George H. Stegner, Ruth Pulsfort,
and George's wife Marie in the front;
Marge Jarvis and and Bill Wessel in the rear.
A cookie display
inside the store.
George and Anna Scharold's Grocery


1135 S. Fort Thomas Avenue




from a Facebook post by Cathy Martin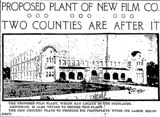 Then there was the 100 acre film studio they were going to build in Fort Thomas, or maybe Ludlow. Details.
Al Stegeman's Highland Auto Garage Co., left, 1923
Cadillac & Oldsmobile. C. C. Weber, architect.
later a roller rink; still later a Kroger; currently a Convenient Store/Bank parking lot
Albers denied beer permit in 1938 - too close to a church.
Summit Lodge


From a Facebook post by The Campbell County Historical and Genealogical Society
Dietrich's Club House,
The car on the right is a 1910 Reo, and
the one on the left a 1910 Packard.
Summit Lodge
The two buildings above are the same building, at the corner of South Fort Thomas Avenue and Grandview. If you want a little more background on it, go here, and also here.
Schulker's Drug Store started in Bellevue, moved to Fort Thomas
when the business changed hands.
From a Facebook post by Bev Achzehner Harber
As demonstrated here, early post offices could be placed anywhere, and moved sometimes with each election and the patronage therefrom. This is Col. Egbert and Judge Newman's tobacco store, a couple of hundred feet north of the tower, and a US Post Office, among other things. More on Colonel Harry Clay Egbert.
Dobbling and Son Funeral Home
Wiedemann's Bakery
From a Facebook post by Don Prather
Fort Thomas
Building & Loan
Highland Bank
The Highland Bank opened May 2, 1925 in the Midway District


From a Facebook post by Bev Achzehner Harber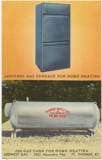 Midwest Gas, 2557 Alexandria Pike, Fort Thomas