The Reservoirs of Covington Water Works, Located in the Kentucky Highlands, left, 1903; right, c. 1910

Newport Reservoir, c. 1910
| | | |
| --- | --- | --- |
| | | |
| Locations | | The Thalweg |
The Fort Thomas side of the Ohio had intakes for three water systems, and reservoirs for two.
Why? Because that's where the thalweg is. An attempt to clarify.
Purple arrows are Covington; green, Newport; red, Cincinnati.
The Covington Waterworks, 1914
(Sorry for the quality
of the pic - best available)
The Covington Reservoir,
Fort Thomas
The Covington Reservoir
Fort Thomas
The Reservoir in
Military Park
The original Fort Thomas water reservoir.

Covington Reservoir

At the pump house,
c. 1920

Covington Water Works
Pump House
A View of the Cincinnati pumping station
City Water Works in the Day and Night,
Cincinnati, Ohio, 1912. This is the Water
Works Intake Pier for the Cincinnati Waterworks.

Cincinnati Waterworks,
California, Ohio, looking
across the river to Fort Thomas
And a close up - check
out the railroad tracks, 1907

| | |
| --- | --- |
| | |
| Railroad side | Pier Construction |
| | |
1904
Note steam engine on KY side
Note the men on top.

From a Facebook post by Bob Kent

Cincinnati Waterworks pumping station, on the Fort Thomas side, under construction, c. 1890.


The City of Cincinnati actually owns the Kentucky real estate that their pumping station is built upon.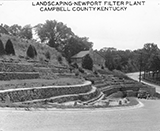 Scene along along Alexandria Pike.
It should say Covington; not Newport.