Hillside View of Newport, looking easterly
The building in the distance, on the hill, is Saint Martins Academy. You're looking mostly east, a little south. The building was also known as the Thomas Laurens Jones Mansion. It was built by Mary Keturah Taylor, granddaughter of the founding father of Newport, James Taylor. It was built in 1853. When the Taylors passed on, it was sold to the Archdiocese of Covington, and served for years as a home for the Sisters of Divine Providence. It's also been a school for girls, a convent, a home for working women, and a retirement home for women. In 1975 it housed Vietnamese refugees. It was sold in 1976, and razed to make way for K-Mart Aldi's. Progress . . .
Newport, c. 1835


A painting by John Caspar Wild

We're guessing 1820-1840. Note Newport Barracks
Newport, 1848,
from an engraving for
the Gentleman's Magazine
An 1893 Harper's had this image of Cincinnati from Newport in 1812
Cincinnati from Newport, 1840.
1850's


From a Facebook post by Linda Kreindler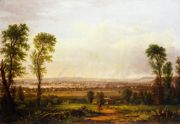 An 1850 painting by Robert S. Duncanson (Wikipedia)
A video from the Cincinnati Art Museum about the Duncanson painting above.
Aerial View, 1952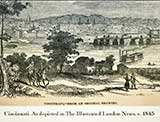 1845
An engraving showing
Newport in 1850
Newport, 1856,


from an engraving by Derby & Bradley

Newport
from Gleason's Pictorial Drawing
-Room Companion, April 16, 1853

That's the Purple People Bridge on the left, and the
Taylor-Southgate on the right. Currently the site of the Newport Levee.
| | |
| --- | --- |
| | |
| | The Fill, before it was filled. Orient yourself by finding the Academy of Notre Dame of Providence on the far right. |
| | | |
| --- | --- | --- |
| | | |
| Newport, 1943 | In the 1948 Flood | 1951 |
Flood Wall construction
Note the steamboat in the background,
and the trolley turning up York
Looking South from New Cath, 1968, before I-471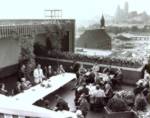 In the background they're building what would be Vandiveer, then Schott, then Riverside Ford. The church is Immaculate Conception. Update: Thanks to Beth Fennell, who tells us "This is a meeting at the Wiedemann beer garden with Bert Combs to discuss funding for I 471 and 275.  My father, William A. Fennell Sr. is far left at the table in profile with his hand up.  That may be Lambert Hehl or Frank Benton Jr standing behind Bert Combs.  I also see Bud Pogue  and   Bud Houliston."
From the Carew Tower, August 11, 1935
from a Facebook post by Bob Genheimer, of a photo by Fred W. Biermann
Aerial Views of Newport
Riverside Ford/Post Office
Pre-Levee
Riverside Ford
Our Lady of Providence /
I-471 Construction
Riverside's promotional line: "Riverside Ford, a block and a bridge from downtown."
These Newport Aerials are all from 1989-1990's. Not old, but as our contributor/photographer Larry Stulz notes, already historic.
"Newport Travellodge, Third and York Streets, Newport, Kentucky, conveniently located only three minutes from the heart of downtown Cincinnati and a short walk across the Broadway Bridge to the new Riverfront Stadium and Coliseum.

"Newport Travellodge is air conditioned. Has an outdoor swimming pool and color television, Meeting and banquet rooms are available for receptions, business, or convention needs. A cocktail lounge and restaurant is part of this comfortable motel.

"For your next reservation phone (toll-free) 800-255-3050. You'll enjoy your visit to Newport Travellodge."
Newport, 1996