For a detailed 1920 Plat of the Clifton Neighborhood, go here.

There was an early limestone quarry in Clifton, bounded by what is now
Amelia, Ash, Main and Home Streets.
The St. Vincent de Paul School is on the National Register
of Historic Places. The application (pdf) contains lots of images, history, and architectural details.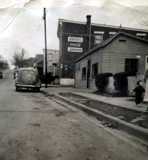 Main and Home Streets
from a Facebook post by Ruth Ann Kuntz Wietmarschen
Clifton was officially annexed by Newport as of November 26, 1935.
Clifton School, September, 1919. Ms. Haas' First Grade. We know that's Wm. Knox in the upper left corner

Alice Webster's Clifton: A History of the Hill is here. (pdf)