Newport, c. 1907
Newport Riverfront, June, 1921
From a Facebook post by Rita Schlei Quick

Celebrating the 400th year of Columbus' Discovery of America


From a Facebook post by Jim Hughes

Newport, 1861. Newport Belle, a ferry, left;
unknown packet on the right.
Newport Ferry, c. 1880's
Newport Barracks can be seen in the two left hand images here.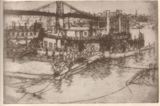 L & N Bridge from Newport, a sketch by E. T. Hurley, from a 1919 book of sketches by Hurley, with texts by James Green. You can
read Green's text to this picture here.
The Ferry City of Newport, (left, May 10, 1888) The City of Newport ran well after the Suspension Bridge opened, but shut down on September 7, 1891, when the Central Bridge opened. She later ended up being re-built as the wharf boat at Patriot, Indiana. from the S&D Reflector, Summer, 1976
"The two sidewheel Cincinnati and Newport ferryboats will be sold at auction on the 10th of next month. Too many bridges at Cincinnati for the ferryboat business." Inland Waterways Journal, April 1, 1893
"But $1,000 was offered for the two Newport ferryboats at auction at that place a day or two ago. Capt. John Williamson ordered the sale stopped, claiming that the machinery was worth at least $3000 as scrap iron." Inland Waterways Journal, April 1, 1893
"When the Newport and Cincinnati Bridge [Central Bridge] was built and side-wheel ferryboats, City of Newport and City of Cincinnati, lost their usefulness and were sold. The machinery of both were removed and both were converted into wharf boats. The former is now doing service at Patriot, Ind., and the latter at Warsaw, Ky."Inland Waterways Journal, December 29, 1894
Wharf Boats in Newport
We assume that's the ice of 1917, but are not certain.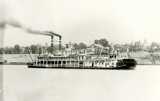 The Louis A. Shirley at the Newport side of the Ohio
Note the courthouse bell tower and St. Paul's steeple, in back to the right.
Thin Water, 1896.
The rivermen were no fans of any of the Ohio river bridges.
Not of the Central (Taylor Southgate), nor of the L&N (Purple People)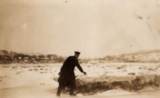 "To Miss Jessie Cox, Springfield, Mo., I am nearly frozen."
postmarked Newport, January 1, 1910, 7:30 a.m.,
published by Ira N. Beam, 333 York Street

from a Facebook post by
Martha Battistone Martin
Radio Station WNOP
a.k.a., The Jazz Ark, a.k.a., Radio Free Newport. More here.
Lou Rawls sings the WNOP sign-off version of the Star Spangled Banner
| | |
| --- | --- |
| | |
| Looking South from the flood wall | The Ice of 1977-1978 |
The Big Mac, 1971


From Facebook posts by Kurt Hultquist

The Daniel Carter Beard Bridge, about which more at this site. But known to all as the Big Mac, for its golden arches.

from a Jim Robb posting on Facebook

Looking South from the Ohio side.

From a Facebook post by Kurt Hultquist
Looking from Newport
looking east
looking south
Two views of the east end of the flood wall, c. 1968
Vice President Alben Barkley dedicates the new floodwall in 1951.
The Islands
From a Facebook post by Jim Robb