The C & O and the L & N Railroads
Location of Newport Depot
The Wagon Wheel Bridge
note Mt. St. Martin's on the hill to the right, and Dorsel's Flour, straight ahead.
from a Facebook post by Sam Routzon
C & O Depot, Newport, looking west

The tall building is Wiedemann's malt house (A malt house is a building where cereal grain is converted into malt by soaking it in water, allowing it to sprout, and then drying it to stop further growth. ).The two story railroad building is NX Tower. The tower houses the man operating the switches. It's two story not for improved vision, but because that's how high a switching tower had to be to accommodate the switching equipment. Note the Monmouth underpass in the center image.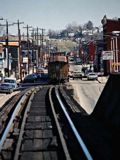 Coming off the L&N Bridge going south on Saratoga
From a Facebook post by Will Lack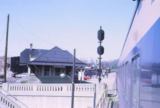 A passenger train at the Newport Depot
Back when the railroad ran down Saratoga Street, L&N maintained a
freight depot between 5th and 6th.

The 1914 Louisville & Nashville Shippers' Guide had this listing for Newport.