The Hartsfeld Smelting Furnace
Newport, Kentucky


Aerials of Newport Steel
Newport Steel's other location was this
blast furnace in Martin's Ferry, Ohio
Aerial Views of Newport Steel
left, 1951; right, 1966
The story that went with the 1951 picture is here.
| | |
| --- | --- |
| | |
| The Andrews Steel Mill Layout | To get an indiction of the size of this giant steel mill, locate the offices HAL-PE Associates in the current map, indicted with a red arrow. You can find that same building in the 1951 aerial view above. We think it's a pretty dramatic indiction of the steel mill's size. |
| | |
| --- | --- |
| | |
| In the 1913 Flood | Licking Rolling Mill |
Licking Roller Mill, 1905
1908
1926

Newport Rolling Mill Letterhead
Note the World-wide offices listed on the 1926 item
| | |
| --- | --- |
| | |
| The Charles R. Hook, of the American Rolling Mill in Newport | Yard switcher at Interlake Steel |
The Andrews Steel Company began as The Globe Iron Roofing and Corrugating Co., established by brothers J. A. Andrews and A. L. Andrews, on the public landing in Cincinnati (above). They bought the Swift Iron and Steel Co in Newport in 1890; formed Andrews Steel in 1908; and the Newport Culvert Company in 1919. The ad is from 1923.
Finished Product
Newport Rolling Mill
The Andrews Steel Co.
Thanks to Karl Litzenmayer for these two.
| | |
| --- | --- |
| | |
| The Andrews Steel Plant (top) and The Andrews Rolling Mill (bottom) | Newport Rolling Mill on the Licking River |
3,000 people were employed here.
read a little more about Andrews here.
...and a less flattering moment for J. A. Andrews is here.
The mill in Wilder has been Swift, Andrews, Interlake and now as Newport Steel.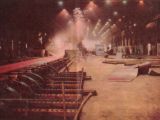 Interior, Newport Steel, 1955
As long as they had a
tank in town, they took
out some stills, too.
February 21, 1922
Patrolling the streets to
quell the riots at the Newport
Rolling Mills, February 4, 1922
Guards during the riots,
February 4, 1922
Thanks to Carol Hudson for the picture on the right, and the catalog below.
Thanks to Thurman Wenzl for sending us this, the story of labor strife and unions in Newport's steel mills.

You can view an early catalog of the products of Newport Steel, here.

"The Gaylord Iron and Pipe Company have finally purchased the Wolf Rolling-mill property,
in Newport, for the sum of $51,975. This is said to be the finest piece of property for manufacturing
purposes in the city." Courier-Journal, April 29, 1873


Ad from the 1889 Chemical Trade Journal
An earlier, 1855, ad for railroad "tyres"is here.

"CINCINNATI, Ohio, Aug. 21.--A shipment of 150 pounds of metallic, chemically pure aluminum, the first export of this metal from the United States, was made this week from Newport, Ky., to London, England. The precious metal, which sold at 50 cents per pound, was smelted from Kentucky ore and clay by a process which is as yet tedious and is kept a secret." New York Times, August 22, 1888
Vice President George Bush at Newport Steel