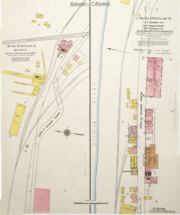 The Old 76 Distillery, in Finchtown
Description of the Old 76
More details on the Old 76 are at this site.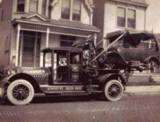 Fender's Towing, in front of the Fender Building, 130 W. 8th
Those houses in the background now at 125-127 West 8th or so
from a Facebook post by Gregg Hemmer, and data from James Rodney Poynter
E. Crawley made book binding machinery at 328 Keturah
Newport Mineral Water Co,
right, front and back. Building is at 16-18 E. Sixth Street
More about Newport Mineral Water is here.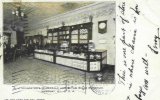 A. J. Livingston's Wholesale
and Retail Cigar Emporium,
" Newport, Kentucky, USA"
Livingston's was on the southeast
corner of 5th and York, in 1910
Music Hall at 11th and York
George Dorne Chewing Gum Factory, & Ad
A Little More on the Dorne Operation is here.
The time they busted a still on Dorne's third floor.
E. J. Blumberg and Son
New and Used [!] Plumbing Supplies
At 12th near Licking Pike

Original Newport Power Station
Off the southern end of Lowell Street
More than you ever wanted to know about powering the NKY trolley system is here.

Bill Yung's Body Shop, 5th and Isabella
Call HEmlock 1-8428.
The Midwestern Bar
601 Central Avenue
from a Facebook post by Newport's Sin City Years
The Campbell Towers Implosion, June, 1999
Specht's Pharmacy,
10th and York
Specht's, 1891


From a Facebook post by Jim Specht

Bahlman's Shoes,
7th & Central


from a Facebook post by Bev Achzehner Harber

Ben Pelzer's Cafe
6th & York


from a Facebook post by Bill Fay
National Band and Tag, 721 York Street, made a business out of selling sun glasses for chickens. No, really. Read it.
from a Facebook posting from Jon Wolfe
The Green Line passes 11th & Brighton


Ed Gibbs, photo

Old 76 Distillery
E.L. Anderson Distillery
York Distilling Company
Old 76 Distillery
Dean Manufacturing
209 Front Street
The web site of the Gas Engine Magazine Newsletter knows more about Dean Manufacturing
Kentucky Post, January 27, 1929

Reliable Monuments
11th and Lowell
Teddy Bear

| | |
| --- | --- |
| "Fire destroyed the Dana Coal Elevator at Newport, Ky., entailing a loss of $50,000. The building almost adjoined the remains of the "Old '76" distillery that burned last week." from Fuel Magazine, 1906. | "The new stock-pens at Finchtown, near Newport, are completed, and about 2,000 head of stock will be wintered in them" Courier-Journal, December 6, 1880 |
| In 1890 Newport, you could hire a mesmerist. | Description Livezey's saw mills. |
| You can read about the 1854 explosion of a Newport saw mill. | Newport had an award winning silk manufacturing plant, here. |