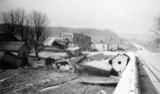 Prestonville, looking from the old bridge toward Milton. That's Mattick Street going
to left. The old bridge approach was shorter than the current bridge.
Thanks to Bill Davis for the pic, and the info.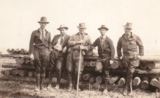 CCC Workers during the 1937 Flood
from L to R, Mr. Spencer, unknown, unknown, Jake Lee, Goldie Martin



Main Street in the 1937 Flood
Carroll County Courthouse in the 1937 Flood
Downtown in the 1937 Flood
How much greater was the '37 flood than its predecessors? Lots.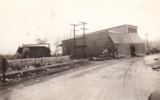 Thought to be the Road Dept. building beside the Kentucky River bridge in Prestonville.
Thanks to Bill Davis and Bill Banks for their help in identifying locations of some of these.