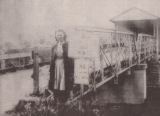 Sanders Covered Bridge, circa 1940's
Sanders Covered Bridge
The Sanders covered bridge was destroyed by an arsonist on August 23, 1948.
The Sanders Bridge with its siding, which was later removed.
In 1922, the southern end of the bridge collapsed under the weight of an overloaded
truck, and was replaced by a steel span, yielding this half-steel, half-wooden bridge.