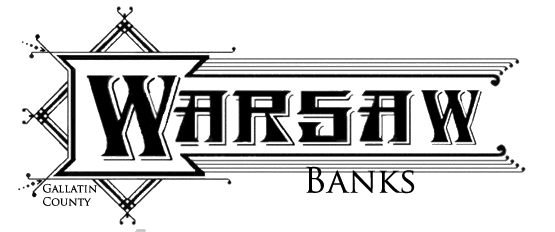 The late Farmers State Bank
January 23, 1923 - January 23, 1980

"Frankfort Ky., July 19. - Articles of Incorporation of the Farmers State Bank of Warsaw, Gallatin county, were approved here by Jams P. Lewis, State Banking commissioner. The bank will have a capital stock of $25,000, and a surplus of $2,500. The promoters are O. A. Bogardus, D. K. Bailey, and V. T. Craig."
The Kentucky Times-Star, July 19, 1922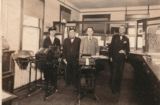 Farmers State Bank Interior, c. 1923
standing in front of the vault door; looking toward the front
That's George Henry, Mr. Hickey, and Harry Renyer
Farmers State Bank Interior, c. 1976
This is a test shot from the security camera. Behind the counter, from the left, that's Barbara Kinman,
Bea Scott (for whom Bea Scott Drive in Warsaw is named), alarm technician Paul Haupt in the vault door, Francis Harris (in
front of the vault door) and Martha Beall with her back to the camera. Customers are unknown.
Farmers State Bank
Employees and Directors
A key to the folks is here.
| | |
| --- | --- |
| | |
| Ohlen Stewart | Vivian Stewart |
Ohlen Stewart was a former cashier of the Union Bank of Glencoe for 24 years and
was at the Farmers State Bank in Warsaw bank for 14 years after that.
He died on July 20, 1956. Vivian Stewart was the subsequent Cashier of the Farmers State Bank in Warsaw.
Gallatin County Deposit Bank
The '37 flood just barely made it into the basement of this building.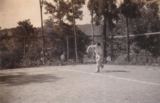 Immediately in back of the Gallatin County Deposit Bank was a tennis court
The New Farmers State Bank Under Construction
The story of the grand opening, here.


Why are there stamps on the checks?
Various Warsaw Bank checks and logos


"The final distribution of the funds of the Warsaw Building and Loan Association was made May 1st [1905], when the association was dissolved. The earnings were 210 per cent. Two houses were built and some money was saved by people who would have otherwise frittered their means away."
from the Warsaw Independent, May 6, 1905