The greatest mystery in the history of Gallatin County is this:
What happened to Hub Ferguson on the night of June 18, 1954?
The bad news came Monday. You can see Ferguson's partially floating body in the lower part of the picture on the left. In the center, is the crowd trying to get a look at the body. On the right, is a 22-pound cast iron tie plate and a wire. The plate was wired around his neck, and there was a gunshot wound in this head.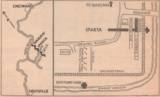 A map of where the body was found.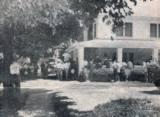 Over 500 people attended the funeral at Carlton's Funeral Home.
This is Harlan Heliman, the Commonwealth Attorney
in charge of the investigation

The complete story of Hub Ferguson is here.
Roy Wheeler's account of the Ferguson story is here.
(because of the pop-ups now on Wheeler's original site, we've copied his text to a pop-up free page on our site.)