On Prospect, looking
south, toward 11th
North from Sixth &
Main, Covington
What is now Route 8,
in West Covington, 1930
"The Holman car heads north at Holman and Linden, through the heart of the then largely German-speaking portion of Covington, circa 1914. Considerably more than half of the residents in 1914 subscribed to German language newspapers, but anti-Kaiser sentiment, by the end of World War 1 no such newspapers existed."
Terry Lehmann and Earl W. Clark in The Green Line.
The image of 12th Street above is from Covington's 1930 Strategic Plan for its future. The planners advocated a wider 12th Street, noting the need for an improved East-West route thru the city, because the the current 12th Street was too narrow.
At the corner of the Mother of God Cemetery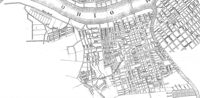 1859 Covington
from the 1859 Williams Directory of Cincinnati
Temperance Hall at Scott and Market Place dedicated in 1854.
Philadelphia Street sinks 15 feet as 1937 flood recedes, here.
Covington Traffic
Patterns, 1930
Extension of 19th
between Madison
and Scott
Re-routing Southern
Avenue near Decoursey
in Latonia
Extension of
Scott to Madison
The traffic flow diagram, and the three route change proposals here are all from the same
1930 Strategic Plan mentioned above. You can read the whole plan at Google Books.

"Purchase of eight traffic lights, to be installed in the near future at Fourth, Fifth, Seventh, and Eleventh Street intersections with Scott Street; Sterrett and Madison Avenue; Pike & Holman Streets; Fifth and Madison; and Ritte's Corner in Latonia was determined upon by Covington City Commissions, meeting in conference recently. Commissioners decided to install six traffic lights as a preliminary step toward a complete traffic system in Covington." from Motour: The Magazine of the Cincinnati Automobile Club, May, 1928.

Court Street, from Park
Looking south on Philadelphia, 1975


from Facebook post by Marty Cahill,

Scott looking north from 3rd
Fourth Street, West of
Madison, Covington
South from 8th
& Greenup
15th and Russell,
Covington
Lawyers Building, 1922
Third and Scott
Scott Street dead
ends at Sterritt, 1930
Scott at Second,
c. 1950

"The Covington Journal says 'A little son of Jimmy Withers, seeing a horse attached to a wagon rushing down Scott street, between Fourth and Fifth Thursday, threatening to destroy everything in his way, ran out in the street, and, at considerable peril to himself, leaped into the wagon from behind and checked the animal. The boy is only twelve years old and deserves great credit for the feat.'" Courier-Journal, June 23, 1873

| | | | |
| --- | --- | --- | --- |
| | | | |
| Scott, looking north from Fourth, c. 1900 | Court Street, c.1900 | Court, South from Fourth, c. 1900 | Court, North from Fourth c. 1900 |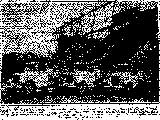 John C. Meyer, 626 Scott, sells three Reo Speed Wagons
Construction of that portion of I-75 that would come to be known as "Death Hill."
By 1984, Northern Kentucky had had enough of Death Hill, and the Governor announces change.
20 East 5th, c. 1951. J. H. Norris & Sons Plumbing upstairs, and a Laundromat downstairs.

From a Karla Dent Facebook post. She notes she's the short one.

The corner of 6th and Scott. The young lady is Bonnie Schabell.

From a Facebook post by Jamie Bruin

Park's Dry Goods, 12th and Banklick
On a section of Garrard that no longer exists, c. 1936.
This map may be helpful
From a Facebook post by Linda Schilling Mitchell
The 1894 Covington City directory lists Clara, Katie and Mary Buddendick as seamstresses who live - and evidently do business - at 526 Main. Picture from a Facebook post by Will Lack
Scott, South from 17th,
Covington, 1905
Fenton's Cleaners
Second and Court, 1939
Scott, South of Robins,
Covington, 1905
Beautiful Residences
Greenup Street
Greenup,
South from 13th
Section of Greenup
Street, 1903
Greenup at
the River
It's obvious in the above right image that Greenup lines up with Cincinnati's Walnut Street (and Covington's Scott Street lines up perfectly with Cincinnati's Vine Street), so how is it that the Suspension Bridge doesn't line up with either??? Find out here.
"Covington, Ky., is on the lower side of the Licking river, built on a fine plain mostly above the highest floods of the Ohio. A steam-ferry unites it with Cincinnati, and a suspension-bridge is about to be built across the Licking connecting it with Newport. The streets are laid out so as to appear, from high ground, like a continuation of the city of Cincinnati on the opposite bank of the river. It contains a fine city-hall, several churches, printing-offices, a Baptist theological college, a cotton and silk factory, tobacco-factories, ropewalks, etc. Pop. about 12,000. "

from Appleton's Southern and Western Travellers' Guide, 1849

They're selling lots in Austin's subdivision in 1853.
Scott Street's historic Boone Block to be torn down, here.
Covington moves one of its tollgates on the Lexington Pike, 1903.
"The suit against the property-holders in Covington, on Ninth street, between Madison and Washington, to enforce the payment of a special tax levied to pay for the paving of that square with locust blocks, was decided at the late term of the Chancery Court there, against the property-holders." Courier-Journal, December 19, 1871
"Mr. Charles Trantwein at one time a saloon-keeper on Madison street, and at present residing on the corner of Seventh and Craig, has met with a loss of nearly all his movable furniture and his wife, who went off together last Saturday night. The woman was Mr. Trantwein's second wife, and he threatens to shoot any one who brings her back while he offers a liberal reward for the recovery of the furniture." from Covington's The Ticket, November 2, 1875.