Residence, Commonwealth
Avenue, Erlanger
The Col. Hubbard G. Buckner
Home, built around 1912
Hoehn Home on
Erlanger Road
Clovernook Tourist Home,
Dixie Highway,Erlanger
2 Elizabeth Street,
Erlanger
Rogers Home, Erlanger Road at Hulbert
From a Facebook post by Beverly Sturgeon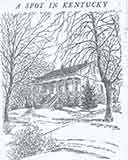 Home of Joseph Podesta, somewhere in Erlanger
From a Facebook post by the Erlanger Historical Society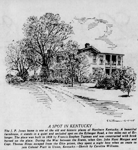 A Caroline Williams sketch of Erlanger's Jones House
The John Hunt Morgan comment in the caption is likely wrong.
The Taliaferro Place
The Taliaferro Home on
Graves, c. 1890
c. 1890's
c. 1912
c. 1939
c. 1950
c. 1970
c. 2020
Home on Commonwealth Avenue, from a Facebook post by Jenny Paul Hadorn. At NKYViews, with our website of well over ten thousand images, we can get pretty jaded about another old photo, but we find this a truly remarkable set.
John Waginger Home,
3226 Riggs, c. 1923
The Bartlett Graves Home
The first home in Erlanger
Ruth Wolking Home
Crestwood (pdf) Harry Brent Mackey's home on Dixie.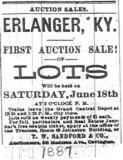 Early 1887 effort at development

We're indebted to the Erlanger Historical Society for many of the pictures you see here. Thanks, folks.