. . . and a few earlier.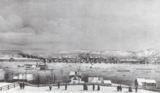 Flood of 1847
Covington from the Suspension
Bridge in the 1884 Flood
Covington looking at the
Suspension Bridge 1884 Flood

Second and Greenup, 1884

In 1884, there were 350 houses underwater in Covington and 6,000 people homeless.
More on the 1884 flood in Covington, here and here.

Here's the Cincinnati end of the Suspension Bridge in the 1884 Flood
Collage of Cincinnati an NKY Scenes in 1884 Flood
All three of these are from Covington, toward Newport, in 1884. Treat them as one long, panoramic view. You can pick out Newport Barracks, and a glimpse of the older Licking River Bridge (extreme right). Our guess is they're taken from atop Booth Hospital.

A very few words on the flood in 1901.

January, 1907

Views of 3rd Street, Covington, 1907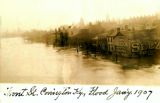 Front Street, Covington, 1907
Thanks! to Nate Thamann for this one


Greenup Ave. looking west from the bridge
from a Facebook post by Dale Ashcraft
On Main Street, 1913
From a Facebook post by Marcia Schrader
Droege's Rolling Mill in
the 1907 Flood

13th Street in the Flood,
1907
Good stuff. These three are identical locations, but obviously taken in different years. Since the card on the right is pre-printed as 1913, we're betting the one in the center is 1907. We know the one on the far left is 1883.

left photo from a Facebook post by Kevin Hericks
East from the C&O Bridge,
Front Street,

These two are 1907? 1913? 1937?
The Licking River Bridge
at 11th Street, 1913

Pattison Brothers Kentucky
Bourbon Distillery Co,
March 23, 1913
Ohio River at 69 feet, 6 inches

1913 Flood, Covington

Looking North, 1913
Lewisburg in the 1913 Flood
Writing on the Card says
"Lewisburg from Lexington Pike"

Austinburg in the 1913 Flood
looking East from Edward Street

High Water in 1913

April 4, 1913

"What on earth does all these calamities mean anyway. Floods, winds and hailstorms, Earthquakes, Titanic Disaster, wars in both countries, tidal waves, perilous and hard times everywhere? Well, please read the 24th chapter of Matthew and Mark, 13th Ch. And Luke 21t Ch. And James, 5th Ch. And the third Ch of 2 Tim. And many other passages and you will see that it is all to remind us that the coming of the Lord is very near at hand, this generation if you please, sure!"Message from the back of a flood postcard, dated 1913, to Mrs. Stella Kraus, 1026 Everett Avenue, Louisville, Ky.

Fourth Street Bridge Between Covington and Newport, 1913
(Although, we've also seen card on right dated as from the 1907 flood)
Fourth Street Bridge Between
Covington and Newport, 1913

View from the 11th Street
Bridge, Covington, 1913 Flood

Covington, 1913 Flood
1933 Flood