They're Off, at Latonia
Running at Latonia
"Latonia Race Track,
Cincinnati, Ohio"
1908
1936


from a Facebook post by Dale Ashcraft



Two views of the rear of the grandstand
A documentary film by Cam Miller on the Latonia Race Track. This film is told through the eyes of former employee James Robertson as he takes us through the glory days and eventual demise of Old Lationa. 28 minutes.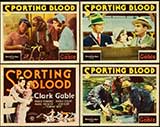 A 1931 Clark Gable movie - his first with top billing - was partially shot at the Latonia track. Sporting Blood

(IMDB)

can be seen on YouTube, but the video's there tend to be pay sites, ad heavy sites, or blurry. Amazon has the DVD for $10, as of 2021. Latonia scenery starts at 33:05. FYI, the film isn't as bad as you're imagining.
1913
"Photoshopping"-type effects
are common in early postcards,
but are rarely this sad.
A shot from the back. Keep in mind horses came and went by trains in those days.
Aerial view of the track, 1925
Map of Latonia from 1951 showing location of the race track.
At The Post
To Mr. H. W. Funk, Chief Electrical Engineer, Norfolk & Western Railway Co, Roanoke, Virginia: "Bo, You ought to bring Red Mary out here. Bet on "Squeeler" yesterday at 2-10 odds. Last they heard of her, she is due in this morning at 8:00, Earl"

Dr. James Claypool wrote about the history of the Latonia track at this site.

The South Covington Fair and Trotting Park Association was established in 1876, but the track didn't open until 1883. We don't know if this was a failed earlier attempt to establish the track, or whether it just took them 6 years to get built and opened.

A member of Jessie James' gang, Dick Liddell, died in Latonia on July 7, 1901. In later
years, he had become an accomplished owner and trainer of thoroughbreds.

"Ex-President [Rutherford Birchard] Hayes, in company with A. D. Bullock and John A. Gano visited the Latonia race-track, back of Covington, last Wednesday." Cincinnati Enquirer, June 10, 1883

Latonia Rag (March & Two Step), by Leon Donaldson, 1903

Latonia Race Track, Florence Kentucky, 1962
This Florence reincarnation opened August 27, 1959. The name was later changed to Turfway Park