White Castle
Covington #1
825 Madison
Opened May 1, 1930
White Castle
Covington #2
441 Pike Street
5 Stools inside
Opened in 1930
White Castle
Covington #3
12th & Madison
Opened July 28, 1960

Whitey's, 1952,
from a Facebook post by
Barbara Rawe Sparks
Proving yet again there can be a very fine line between history and nostalgia . . .


Harry Nieman's, Cafe, 1601 Holman, c. 1910
from a Facebook post by Ron Laws, whose grandfather, Oscar Rischmann, is above the x
August Huerkamp's Saloon,
1908, 1008 Lee Street
"That Neat Little Place"
Richard J. Dibowski's
at 6 Pike Street
Schoer & Brokamp's
1918 Madison Avenue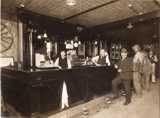 Henry Judas' 9th and Philadelphia
From a Facebook post by Doug Goessling
Pat O'Donnell's Sample
Room 34 Pike Street
Hill's Cafe, 1914
The Flatiron Cafe
southwest corner of
9th and Pike
Main Street Cafe
Owned by Paul Bertsch and Carl Stegman
(and that's a 1951 Ford Victoria to the left)
from a Todd Bertsch post on Facebook
Represented to us as somewhere
in Covington. Could be.
Kentucky Club, 1950
627 Scott
This is John F. Moeller in his
saloon at 640 Scott, c. 1918. But
prohibition hit, and by 1920 he
was selling soft drinks, and by
1923, he's in the bakery
business on Madison.


Thanks to Jerry Kasselmann for the pic.

Winters Restaurant. You may
know it better under a later
name - The Coach and Four.
Today, the site of The Ascent.
from a Facebook posting by Ray Hadorn.

Frisch's, looking southwest at
Madison and 8th.
from a Facebook posting from
Renee King Thompson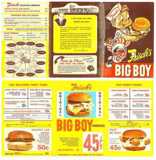 Frisch's Menu
Covington Chili
From a Facebook post by Covington Chili
Town and County Restaurant
US 25 and US 42 4 miles south of Cincinnati
The Finest Food,
Served in Most Beautiful Surroundings
Town and Country, Park Hills
The Blue Star opened in 1936; it's name was change to
Town and Country in 1950
Blue Star Tavern
from the Park Hills, Ky Facebook page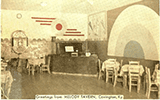 The Melody Tavern, 1945
From a Facebook post by Covington Kentucky Vintage Postcards
Jake's


From a Facebook post by Larry Douglas
Menu from the Blue Star Tavern, later Town and Country
White Horse Tavern
1501 Dixie Highway Covington, KY.
Famous for Kentucky Mint Juleps and Old Kentucky Dinners
Recommended by Duncan Hines
In his column in the Kentucky Post, April 29,1999, Jim Reis notes that the White Horse opened on September 23, 1936, and burned to ground on January 26, 1972. He further notes that the distinctive white horse that sat atop the restaurant later sat at the entrance of the Best Western Vegas Convention Center on Donaldson in Erlanger. The horse now resides at the Behringer-Crawford Museum. Read the Behringer-Crawford's piece on the White Horse.
Dr. Paul Tenkotte writes about the White Horse at this site.
Parking lot at the White Horse, next to a still
standing, albeit remodeled house
White Horse Entrance, 1946
both from Facebook posts by Charles H. Foertmeyer.
The White Horse Tavern Menu, December, 1968
| | |
| --- | --- |
| | Here's a shot of the staff of the White Horse during the late 50's or early 60's. It was thoughtfully contributed by Carol Osborne. That's her mother-in-law, Mildred Osborne, second from the left in the front. She also tells me her mother-in-law could remember when Steve McQueen worked at the White Horse as a bus boy. Thanks, Carol! |

"As an evidence of the effect which the reform movement is producing in Covington,
the Cornucopia, the oldest drinking saloon in the city, closed it's doors"
from the Courier-Journal, May 14, 1869

Thomas R. Cody's
Billiard Room
Thomas R. Cody's
Dining Room
Thomas R. Cody's
Grill Room
Thomas R. Cody's
Cafe, Covington
More about Cody's, which was at Third and Scott, from 1914, is here.
Schilling Carhops
get Walkie
Talkies

Schillings Restaurant and Motel
Five Minutes from Cincinnati on US Route 25 & 42
1939 Dixie Highway, Covington, Ky
Each room Air Conditioned, Hot water heat, Television, Tile Baths, Telephones, Wall to wall carpets and Swimming Pool
Motel Phone - Edison 1-1400
Restaurant Phone - Edison 1-3130
The menu from Schillings? Right here

What started as Schillings in the early 1950's, at 1939 Dixie Highway, has since gone under many names
Schillings was here from 1954 or so, until 1962, when it became the Hofbrau Haus, until 1977 when it became Beef & Bourbon, until 1980, when it became the Candlewood, until 1984 when it was the Tumbleweed, and then there was D'andrea's in 1999, and . . .
The Phoenix, Pike at Russell
The New Belvedere
Madison Pike at Kyle's Lane
from the Ford Treasury of
Favorite Recipes from
Famous Eating Places, we
have a painting of Oelsner's
by Charles Harper,
and Oelsner's recipe for
Pineapple Cream Pie, here


Oelsner's Colonial Tavern
Greater Cincinnati's Finest
Routes 25 & 42 in the Blue
Grass State 2 Miles South
of Covington, Kentucky
Phone - HE 7546


Oelsner's, 1940

Oelsner's Colonial Tavern
Call Hemlock 9578

The Tavern was owned by Russell Oelsner, mayor of Lookout Heights for 14 years, and opened
in 1940. It sat opposite the Lookout House, site of a Skyline Chili these days. It was noted in
those days as a meeting place for the St. Agnes Chapter of the Catholic War Veterans, and a
hangout for a number of former Cincinnati Reds Baseball players. ...and we got this from Chuck Oelsner.
Menu, Oelsner's Colonial Inn
The Steam Towboat John W. Hubbard
You likely know it better as the Mike Fink Restaurant

The Mike Fink, March 22, 1981

Here's the Hubbard's application to be on the National Register of Historic places, complete with photo's, history, and maps.
The Mike Fink offers a "man-sized t-bone."

From a Facebook post by Michael Autry

Not exactly a restaurant, but Woolworth's on Madison had a lunch counter.
Sanzere's, 1950, Park Hills, Kentucky
Gus and Marie Sanzere opened a restaurant at 835 Dixie Highway in Elsmere after WWII, just north of the Swan, and moved to 1504 Dixie, in Park Hills around 1949. By 1956, he no longer called it Sanzere's, but the Golden Goose.
Lang's
623 Madison Avenue, Covington
Frisch's
There were two Kenton County Frisch's locations at the time of these menus:
801 Madison and 2498 Dixie in South Fort Mitchell
Jerry's
(across Dixie from St. Agnes and a little north)
from the Park Hills, Ky Facebook page
Lloyd's
605 Madison, Covington
Carol Sutherland Price, writing about Lloyd's on Facebook: "I worked there and it sure
made me pay attention to what goes on behind the scenes when I eat out."

Lily's Chocolate Shop, at 832 Madison

| | |
| --- | --- |
| Meals, each | 40 cts |
| Lodging | 40 cts |
| Common whiskey, per drink | 05 cts |
| All Other Whiskey, per drink | 10 cts |
| Brandy, rum, gin, wine, etc | 15 cts |
| Grain or feed, per gallon | 25 cts |
| Horses, per night, hay or grain | 40 cts |
| Pasturage, per day | 10 cts |
From the Covington Daily Commonwealth, April 24, 1883