Cedar Hill, Home of Col. L. B. Goggin, Washington
A little more information on Cedar Hill is here.
Cedar Hill, Washington, Kentucky. Summer, 1945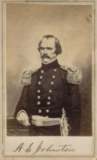 There's a brief bio of General Johnston at this site, (Wikipedia) and a piece
about his most famous Civil War Battle - Shiloh - at this site. (Wikipedia)
Google will give you hundreds more sites about both.
DO NOT miss this remarkable obituary of Gen. Johnson,
Washington House, 1934
Lucy Marshall Bentley wrote a reminiscence (pdf) in the 1930's about growing up in Washington. From a Facebook post by Charles William Marshall
The Tom Foreman House (pdf) in Washington is on the National Register of Historic Places.
| | |
| --- | --- |
| | |
| Wm. R. Gill Farm, 1876 | C. R. Collins Home, 1876 |